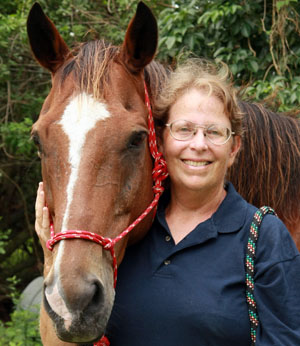 TAILS FROM THE TRAILS
For more than 40 years, Wandering Trails has quietly impacted hundreds of lives. Owned and run by Jane and Greg Schrein since 1975, they began taking in unwanted or abandoned horses while creating a Christian-based riding and boarding facility. In 1978, they leased 800 acres at their current location, 5705 Hood Road in Palm Beach Gardens. The land got sold off, bit by bit, leaving them 50 acres, and now that has been sold as well. Soon, the stable land will sprout houses, and the horses will have to go.
The Schreins have leased 200 acres in Martin County, but it's raw land, not ready for humans or horses. Meanwhile, the deadline to leave looms closer.
Courtney Scianandre, a close friend and part of the Wandering Trails family, helped coordinate a fundraising event to defray costs for preparing the land. Unfortunately, the first date was Sept. 9, the Saturday before Hurricane Irma. The event was rescheduled for Sept. 23.
"I started coming here a few summers ago," Courtney said. "My daughter, Kaylee, was 5, and she loved their summer camp. The relaxed atmosphere was so lovely, she had a great time and learned traditional values. They get out of the modern world a little, take a step back in time. When this problem came up about losing the land, a lot of families got involved."
Many clients hope to join Wandering Trails at its new location. "Everyone's planning to move their horses with them and to keep riding at the new barn, but there's so much work to do to get it ready," Courtney said. "This event seemed like a good way to help raise funds so they can get the new place up and running. They'll have access to 1,600 acres of trails. It'll be wonderful. But they need barns and pastures and all sorts of things."
Unfortunately, Sept. 23 was an on-again, off-again rainy day. The fundraiser kicked off at 11 a.m. with family fun for all: live music, pony rides, a silent auction, games, horse finger-painting, a bounce house and food trucks. The suggested donation was $12 for children and $20 for adults.
Greg Schrein was glad to see so many people show up.
"I feel overwhelmed by all this support from everyone," he said. "We've been here so long and done so much. We're an old-fashioned kind of barn, all about the kids and pleasure and trail riding, rather than shows. We've done beach rides and camp-outs, parades and summer camps — all the things the kids enjoy. We plan to keep doing all of that at the new location."
Greg said that the move will take a lot of effort.
"I have no problem with this land being sold for development. I'm looking forward to moving to the new spot, but starting over is a lot of work. Things aren't going the way we thought they would," he said. "For example, I had all my metal corral panels, enough for 18 pens, stacked and ready to move to the new location, and someone came in and stole them all. That was devastating. I reported it to the police, but what can you do?"
Then there's where to put the horses.
"We still have 12 horses here, and now I have no place to move them," Greg said. "The new land is still too wet for pasture, so I have to find a barn or even a pasture where I can keep them for a few months. There's a lot of anxiety."
Jane agreed. "I feel anxious about what's gonna happen," she said. "We need a big machine, an excavator, to clear even just a few acres of the new land so we can start building. We're also considering a partner, someone looking to share the land and help us get it ready. Many of our boarders will be coming with us, but we need barns and fences. We're trying to move as quickly as we can. The new owners are putting a lot of pressure on us to leave. It's very frustrating."
Allison Banitt, 10, rides at Wandering Trails and came out to help at the fundraiser.
"This is a very good place," she said. "They teach you so much and let you help with everything. It's a fun kind of place. I'm very sad they have to go away. I'm glad they have a new location, but it's so sad to think of all this being destroyed, the land and trees, for houses. I'm going to keep riding at the new place, especially Harley, she's my favorite horse."
Rachel Okolichany was another volunteer/attendee.
"I've boarded my horse here for six years," she said. "Now I have her up in Jupiter Farms, but my goal is to bring her to the new barn when it's up and running. I love this place. I grew up here. Jane and Greg are my second family. Jane always gets Mother's Day cards from me. The fact that they have to move…I've been crying all day."
Kathryn Haines, 13, was also upset.
"I'm definitely coming back when the new place is ready," she said. "I love it. They've taught me everything. Now it's so sad, all the memories, the trail rides and summer camps. I pray everyone sticks together and we can be a big family again at the new farm."
Due to the rain, the fundraising event wasn't as well-attended as Courtney had hoped. "The weather definitely spooked some people who had planned to attend," she said. "We raised about 50 percent of our goal, but everyone had a blast, especially the kids. It was a nice kind of homecoming, but we still need a lot of help."
Can you help? The clock is ticking, and the pressing needs are money, a temporary home for 12 horses that the Schreins will feed and care for daily, and someone with an excavator. There's a GoFundMe page www.gofundme.com/wanderingtrails. You can contact them directly at (561) 622-8130, or visit them online at www.wanderingtrails.com or www.facebook.com/wanderingtrailsridingacademy.