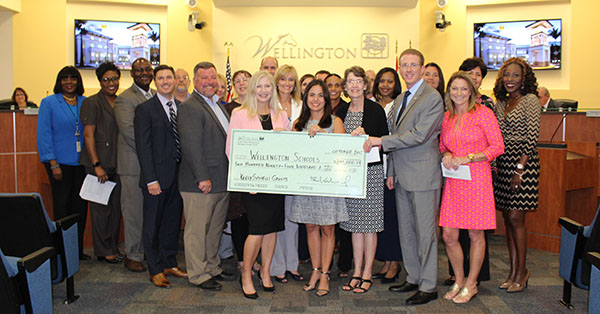 By Craig Campbell
Principals from the 11 public schools in Wellington were each presented with a $27,000 check at the Tuesday, Oct. 10 meeting of the Wellington Village Council. The money will provide direct assistance to hundreds of struggling readers and math students.
The Keely Spinelli Grant Awards totaled $297,000 for fiscal year 2017-18 and will directly benefit students in the lower 25 percent who struggle with reading and math.
Wellington Community Services Director Paulette Edwards and Palm Beach County School District Deputy Superintendent and Chief of Schools Dr. David Christiansen recognized each principal and their respective school while handing them the checks.
Christiansen said the funds are "a wise investment in struggling readers and mathematicians." He also said the school district is going to ask the other 38 municipalities in Palm Beach County to follow the lead of Wellington by financially supporting their schools.
Edwards gave a brief history of the initiative, which started in 2001 with $5 per pupil, per school for a student enrichment program. In 2002, a reading challenge grant was added, which paid for a reading coach in each elementary school.
The program was suspended during the economic downturn a few years later. However, in 2013, Wellington's Education Committee made a formal request to recreate the program, which was named for the late Binks Forest Elementary School Principal Keely Spinelli.
Wellington Mayor Anne Gerwig said the way the funds are designated is very important, "because being a low-performing student in a high-performing school can be quite a challenge."
Councilman Michael Drahos called the awards "one of the great things we get to do every single year." He also pointed out that great public schools are a factor in maintaining or increasing property values.
"There is no greater investment than in the future of our children," Councilman Michael Napoleone added.
Vice Mayor John McGovern said the grant program is a small but important part of the village's mission. "This is a fundamental statement by Wellington as to who we are as a community," he said, noting that no other community in the county or the state financially contributes to the public schools.
Councilwoman Tanya Siskind, who was on Wellington's Education Committee before joining the council, has three children in public schools in Wellington. Siskind said that she sees the work the principals, teachers and support staff do every day in the classroom.
Education Committee Chair John Webber thanked the village's staff in helping him, and the rest of the committee members, to complete their work on the grants. He also gently suggested that the council increase the amount of the award next year.
In addition to the Spinelli grants, Wellington staff is working with area schools to fund and manage an educational summer camp program for students requiring assistance in reading and math. The village allocated a total of $103,000 to fund that program, which is still in its planning stages.