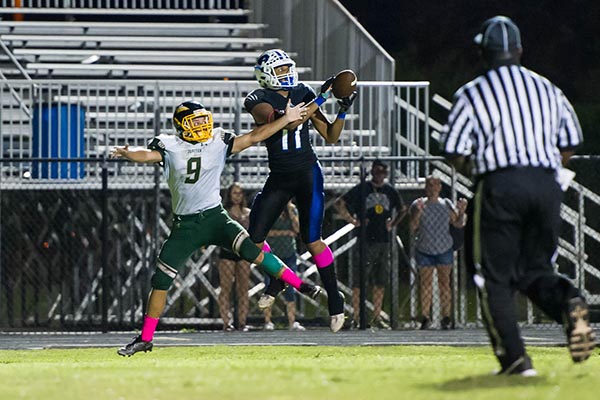 The Wellington High School football squad hosted District 9-8A rival Jupiter High School for homecoming on Friday, Oct. 14, clawing their way to a 23-20 victory in what became an overtime thriller. The win snaps a three-game losing skid for the Wolverines, who improve to 3-4 (1-2 in district play).
Jupiter deferred the coin toss, and it nearly backfired on them when Wellington kick returner Aniik McKenzie sprinted through a seam for 61 yards, nearly breaking it open for a touchdown, but that would be as far as the Wolverines would get on their first possession.
Both offensive units struggled early on, but it was Wellington that notched the first score of the game. At the turn of the first quarter, the Wolverines drove to the Jupiter 4-yard line. One play later, to start the second quarter, running back Mark Anthony Richards powered in for a touchdown to lift Wellington into the lead 7-0.
The Warriors tied the game 7-7 when they scored on a 28-yard run with less than a minute remaining in the half. Another mistake by Jupiter was directing the kickoff to Wellington standout Mark Anthony Richards, who bobbled the kick at first, then turned a potential loss into a 88-yard return to set up an opportunity to retake the lead.
Wolverine quarterback Austin Wallace, who returned after an injury sustained in the Seminole Ridge game, connected with receiver Abran Perez for a 10-yard touchdown pass to give Wellington the lead again, 14-7 after Morgan Suarez's kick, to close out the first half.
"It's way important to the team," said Wellington head coach Tom Abel of Wallace's return. "He did a wonderful job for us."
McKenzie and Richards combined for 131 return yards on the night for the Wolverines.
Both teams traded blows with scores, including a Suarez 20-yard field goal for the Wolverines to lock up the score at 17-17 to end regulation play.
Jupiter won first possession in overtime, but a tough Wolverine defense forced a Jupiter field goal. The Warriors led 20-17. The Jupiter lead lasted only a few minutes, as Wallace linked up with Richards for the winning touchdown to end the contest 23-20.
"We were in the red zone several times, but Austin had to get his timing down," Abel said. "We believe if we play tough, we can come out on top with [Palm Beach] Gardens."
Wallace completed eight of 17 passes for 110 yards and two scores.
Wellington will travel to Palm Beach Gardens High School on Friday, Oct. 20 at 7 p.m. to wrap up district play. The two played for the district championship last season, with Wellington coming out on top.