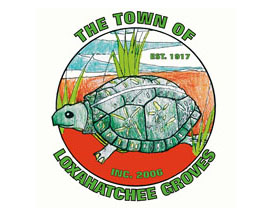 In a 3-2 vote, the Loxahatchee Groves Town Council approved amendments to the Big Dog Ranch Rescue site on Tuesday, Nov. 7 that allow the size of the nonprofit's facility to increase by 8 percent — from 59,774 square feet to 65,077 square feet, or 5,303 square feet of additional space.
Big Dog Ranch Rescue President Lauree Simmons requested modifications that she said will improve on the original design of the 33-acre facility at the southeast corner of Okeechobee Blvd. and D Road.
"We at Big Dog Ranch Rescue are trying to set a standard for a rescue or a shelter, or how dogs are housed for the entire country, not to see dogs living in cages, coming from a bad environment or a kill shelter into another bad environment, but setting a gold standard in dog rescue," Simmons said.
She said that three-quarters of phase one is almost complete.
"We expect to have the front two buildings — the veterinary clinic and the visitor center — complete by the end of February," Simmons said. "Most of our buildings where our dogs are housed are complete, with the exception of one, and one play yard. We're building as we raise the money."
In using the facility, some changes have become necessary, she said.
"Many things that we thought were in good places on our original site plan, we've realized that they really weren't," Simmons said, explaining that most of the changes are just moving buildings that were already approved to different locations on the site. "A few of the buildings are new, because we realized with using the facility, things were missing."
One change was to the boarding dog center, which will be in the final construction phase, and does not change the size but the shape.
"The square footage has not increased," she said. "What we did with the adoptable dog housing wings, we have duplicated it for the long-term boarding."
The veteran dog training center, which will be training companion dogs for veterans who have post-traumatic stress disorder (PTSD), will not be housing veterans with the dogs on site, as had been rumored, she said.
"This will be a training center where we take our rescue dogs, and we turn them into emotional support dogs for veterans with PTSD, and once we get this building built, we hope to train more than 500 dogs a year to help veterans suffering from this," Simmons said.
That building did not change in size, but was moved a little to the east, but still meets all the setback requirements.
The education center is proposed to be moved away from D Road and has increased in size by 1,950 square feet, from 7,500 to 9,450 square feet, in order to provide indoor training when it's raining.
Simmons explained that the location near D Road is noisy with heavy traffic. "We'll use the center not only for educating school-age children, but also for when it's raining outside to hold indoor training classes for your dogs, for your puppies. The better location for the center is on the back side of the lakes… where it's in a quieter location."
The adoptable dog building was shortened by 862 square feet, from 19,968 to 19,106 square feet, in order to preserve some oak, cypress and other native trees on the site.
The senior dog sanctuary, originally planned as one 3,556-square-foot building, has been expanded to three separate facilities, with 2,247 square feet for small dogs, 2,200 square feet for medium dogs and 1,200 square feet for large dogs.
"One thing that we have found by occupying the property, trying to mix using the existing house, and mixing big dogs in one room, and little dogs in another room, and medium dogs in another room, the whole point of a senior sanctuary is for them to be able to live out their lives with us if they're not going to get adopted because they need kidney medication or they have diabetes, or are blind or whatever," she said.
Simmons said they also learned from moving into the facility that they don't have enough room for heartworm-positive dogs, and added a 1,080-square-foot "Heart Village."
"All 56 of our dogs we took in from Hurricane Harvey are heartworm positive," she said, explaining that heartworm, contracted from mosquito bites, is a very curable disease and preventable with oral medication, but it's an expensive treatment that requires three months of quiet, cage rest, leash walking only, and no exercise while the dog is going through treatment.
"We want to create a separate place for the heartworm-positive dogs," she said. "We normally have 30 to 40 in treatment at one time, so we wanted to create Heart Village… where the dogs can live comfortably while they're going through their treatment."
Simmons added that Big Dog gets five to seven dogs a week that are found in the community roaming the streets and requested an 800-square-foot quarantine room for them.
"Some nice person has picked them up before they got hit by a car, and they're brought to our facility," she said. "We would like a small building for quarantined dogs. We don't know if they've had vaccines; we don't know whose they are. We post them on Loxahatchee Lost and Found. We post them on Palm Beach County's web site, and 90 percent of them do get reclaimed."
She said the room would be separate from a larger quarantine facility where the center takes dogs from other shelters.
Meanwhile, the lake was increased in size from 1.5 to 2.5 acres from dredging to raise the overall land elevation 2.5 feet.
"We put a half-million dollars into our infrastructure, so it drains very well," Simmons said.
Preserve areas were enlarged to save more trees, and moved from the interior of the site to the northeast, southeast and southwest corners.
Concrete walkways that originally ran around the outside of the fenced areas of the site were transformed to grass interior walkways.
"All it did was incite the dogs to run up to the fence when they hear people walking," she said. "They weren't necessary, so we eliminated them. We decided around the lake to do a nice grass walkway instead of concrete."
Councilman Todd McLendon said part of the original plan was that D Road would get paved from Okeechobee Blvd. to the south end of the Big Dog site.
"You guys gave the town $100,000," McLendon said.
"And it's still not done," Simmons said.
"I'm thinking it might be more efficient if we gave you the $100,000 back and you all did the project," McLendon said. "Is that something you guys would be agreeable to?"
"Not without me getting what that is going to cost," she said. "I heard you say you're doing 50-50 with everybody else, so I'll get some bids."
McLendon also noted that the gates on D Road were specified that they would be used only for deliveries and wanted a condition to that effect.
Jim Fleischmann, the town's planning consultant, noted that the applicant is asking for 5,300 square feet in addition to the current approval of 59,774 square feet on the 33-acre site, which is an increase of 8.8 percent.
"The maximum floor area ratio in an AR [agricultural residential] district is 0.15," he said. "The existing floor area ratio is 0.04138. The 5,300 square feet will increase it to 0.04505, which is only about 30 percent of what the maximum floor area ratio is on the property."
Fleischmann added that the Planning & Zoning Board had recommended approval with conditions, including that the parking lot be reconfigured to accommodate buses.
McLendon raised a question about the protected areas on the site, which are designated as "waters of the state," and asked Simmons if she had obtained letters or permits from the South Florida Water Management District or the U.S. Army Corps of Engineers.
Simmons said she had advice from her consultant that it was not necessary.
"We have five buildings that have [certificates of occupancy] already, so we're not starting over with processes and changing stuff like that," she said. "I'm not going to find another avenue for you guys to hold up any more of my permits or any more of my COs."
"I'm not sure if that's another process," McLendon said, addressing the council. "If they've already said no, then they should be able to put that in written form and be done with it. I do want to add that there were a lot of people who were upset when [Big Dog] came in here originally. We had a very bad relationship when they came in here. Of course, we blame it on them, they blame it on us. To see them expand before they're even complete with their original construction, I don't think it's a good idea. I'm not going to vote for it."
After more discussion, McLendon made a motion to approve the amended site with an added condition that the D Road entrance would be used for deliveries only. It carried 3-2 with McLendon and Mayor Dave Browning dissenting.