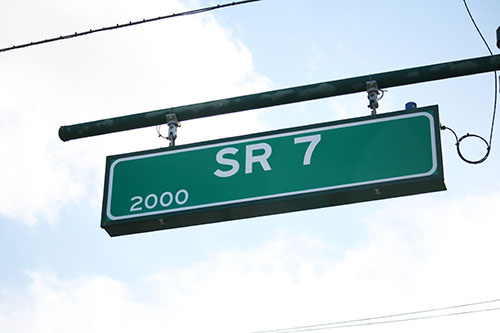 About 50 residents and officials attended a town hall-style meeting Wednesday to learn about final plans for the completion of State Road 7 from Okeechobee Blvd. to Northlake Blvd.
The meeting was held at Palm Beach County's Vista Center complex, organized by State Rep. Matt Willhite (D-District 86) and District 6 County Commissioner Melissa McKinlay.
All agencies involved in the project were invited to participate in the panel presentation and discussion, although some declined to attend, including the U.S. Army Corps of Engineers, due to litigation still underway brought by the City of West Palm Beach.
McKinlay led off the discussion.
"This road is very important to the western communities, as we learned during the last hurricane," she said. "Evacuation routes in this county are not plentiful, and we need to do whatever we can to make sure that this road project happens."
She said the 2010 projections for the impact of the completion of the extension showed a reduction of 4,000 cars daily on Seminole Pratt Whitney Road south of Northlake Blvd., 5,000 on Royal Palm Beach Blvd., more than 3,000 on Jog Road and almost 2,000 on Florida's Turnpike.
"Those are significant traffic reductions in an area that is getting close to capacity," McKinlay said. "One of the reasons Mr. Willhite reached out and asked if we could work together on this is because there are a lot of misperceptions about this project. There are some recent mailers that went out to residents in the City of West Palm Beach that discussed the danger of this to water resources and water quality, and I just thought that this would be a good opportunity to hear from the experts, the scientists and the engineers involved in this project, and know exactly how this project will work with the environment and be a benefit to all of us."
Willhite said part of the purpose of the meeting was to hear residents' concerns.
"The road is not built," he said. "It's still in the process, and if you have any concerns or comments, we want to hear from you."
Panel participants included Florida Department of Transportation District 4 Secretary Gerry O'Reilly, FDOT Director of Transportation Development Stacy Miller, South Florida Water Management District representative Laura Corry, Palm Beach Metropolitan Planning Organization Executive Director Nick Uhren, Palm Beach County Thoroughfare Roads Section Manager Kathleen Farrell, PBSO Major Eric Coleman and Palm Beach County Fire-Rescue Battalion Chief Ernest Miller.
Corry said the SFWMD has approved the permit for the road. "FDOT went over and above the requirements that met our criteria," she said.
Uhren, who pointed out that the MPO recently renamed itself the Palm Beach County Transportation Planning Agency, said he has been working in county public transportation for 14 years.
"I've driven on State Road 7 a thousand times," he said. "I've stood on the northern terminus of the existing roadway at 60th Street and looked longingly north and northeast wondering when the day will come when I will be able to get all the way to Northlake Blvd."
Uhren said he attended the ribbon cutting for the most recently completed portion of the extension by the county from Persimmon Blvd. to 60th Street.
"As an MPO that does prioritize safe, efficient connective and multimodal transportation systems, I am proud to say that the first users of the section that we cut the ribbon for were people on bicycles traveling north from where we stood and taking advantage of that newly constructed roadway," he said.
Farrell said she has been involved in the SR 7 extension since she started 12 years ago.
"We, Palm Beach County, built the initial two lanes of the State Road 7 extension from Okeechobee Blvd. up to 60th Street North," she said.
Miller added that the portion of the SR 7 extension completed by the county has already had a positive impact on fire-rescue response times.
O'Reilly gave credit to the Palm Beach MPO for continuing to prioritize the extension in its road plans.
"This has been a long-time priority, so that's why we're working on it, out of its importance to the region," he said. "This may be an understatement, but it has been a long time in coming together."
He said that FDOT is in a position to advertise bids on the project in January or February and receive bids in late March or April. The request for proposals will be for one project from Okeechobee Blvd. to Northlake Blvd.
"That would put construction beginning in the summer, hopefully sometime in July, so that's when you can expect equipment to start rolling in and actual work beginning," he said, explaining that the project will be two lanes in each direction with roundabouts, sidewalks on each side, separated bike lanes, and traffic lights at Persimmon Blvd., Orange Grove Blvd. and Northlake Blvd.
He noted that FDOT has enough money to take bids on the project in one phase, rather than two. "Obviously, there has been plenty of delay since we talked about that, so we have all the money available right now. The contractor will bid on those two packages together, so it will be just one project," he said, adding that the construction estimate is about two years.
Wellington Mayor Anne Gerwig and Royal Palm Beach Mayor Fred Pinto spoke in favor of the project and its importance to the region. Three West Palm Beach city commissioners spoke against the project.
Former Indian Trail Improvement District Supervisor Michelle Damone, a longtime proponent of the project, spoke in favor.
"I am a 21-year resident of Palm Beach County and a former elected official for the Indian Trail Improvement District. I have been personally advocating for this project since I was 27 years old, and I am now 47 with a grandchild. I remember 27 clear as day, when this project was [back then] important to get to Northlake," Damone said.
She pointed out that the City of West Palm Beach has extended its boundaries to build new communities west of the city's water catchment area, including Ibis, which is adjacent to the road project.
"Those gated communities have come in after I have, and this project is really about public safety, it's about quality of life," Damone said. "I am a resident of The Acreage, and when you leave in the morning and exit to Northlake Blvd., and there's a fender bender or any kind of accident, it changes our lives tremendously."
Learn more about the project at www.sr7extension.com.