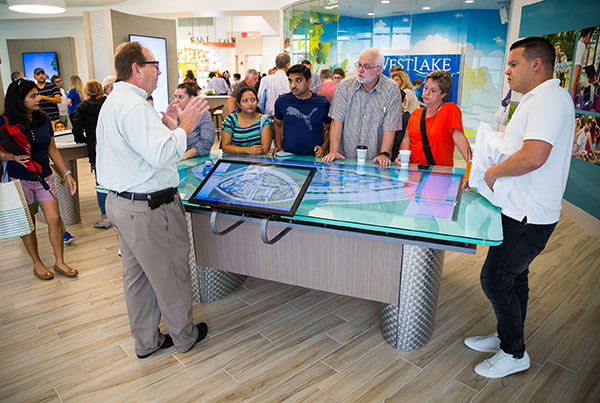 Minto Communities projects that it should be ready to welcome its very first residents of Westlake by early 2018.
More than 3,000 people attended the grand opening weekend Oct. 28-29, and since then, buyer interest has remained strong. Minto has already sold approximately 30 homes in Westlake's first neighborhood, the Hammocks, and has several reservations pending. Prices for single-family homes start at just over $276,000.
"We couldn't be more pleased with the interest, positive feedback and pace of sales we have seen so far," said Mike Belmont, president of Minto Communities USA. "People are drawn to the price point of our homes, the quality of product and lifestyle we are offering. And they love the idea of being pioneers in a brand-new city."
Westlake is located within the City of Westlake, Palm Beach County's 39th municipality, created in June 2016. Minto is planning to build 4,500 single-family homes and townhomes for Westlake, along with more than two million square feet of office, retail and other non-residential uses.
In the Hammocks, buyers have 23 different floor plans to choose from, ranging from 1,483 to 4,320 square feet on either 50-foot or 65-foot homesites. Six designer decorated models are available for touring. Sixteen inventory homes are currently under construction, and several are considered move-in ready, where all finishes are pre-determined and buyers can close and move in before the year's end.
The remainder of inventory homes under construction are known as custom choice, meaning they are built to the drywall stage, giving buyers an opportunity to select their own features and finishes. These homes can be delivered within 90 days of purchase.
Additionally, buyers have the option of choosing their own homesite, specific floorplan and finishes, and their new home would be completed between six and eight months after going to contract.
Westlake features a 9,300-square foot sales center that offers buyers a unique, interactive experience. Traffic has been strong with more than 35 people visiting the sales center each week day, and on weekends that number exceeds 100 per day. So far, visitors and buyers have come from a wide geographical area.
"We have sold to people right here in the immediate area, as far north as St. Lucie and as far south as Miami-Dade," Belmont said. "I think people want to be on the ground floor of something new and exciting."
Westlake blends residential, commercial and recreational elements into a vibrant new community. A focal point will be the Town Center, a comprehensive retail district with a blend of national and local retailers, wide sidewalks and public spaces that will host a lively calendar of programming and events.
The community will feature a wide range of amenities, such as an aquatics center with a lagoon-style pool, tower slide and splash pad, plus an adult pool with swim lanes and shade cabanas. Expansive recreational lawns offer spaces for picnics, lawn games and events. Additional planned amenities include an adventure playground, a dog park, sports courts, an outdoor concert pavilion and a multi-purpose building.
Minto is working with the City of Westlake on a workforce housing initiative that provides income-eligible homebuyers a 3 percent down payment on a new home. In addition, Minto is also offering a Welcome Heroes discount program that gives public servants such as teachers, police officers and firefighters a 3 percent discount off the base price of a new home. The builder has utilized private funding sources to develop Westlake, meaning there are no costly bond re-payment fees passed on to homeowners.
The Westlake Sales Center is located at 16610 Town Center Parkway North. For more information, call (888) 299-3628 or visit www.westlakefl.com.