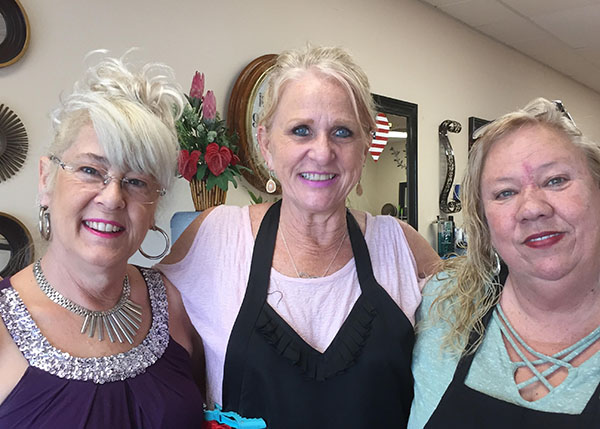 Sona Smith has been the owner of Royal Crown Beauty & Barber for only two months, but she brings decades of experience. She has owned a haircare business in Palm Beach County for the past 25 years.
Her first shop was in Greenacres, but when the opportunity arose to acquire the business on Okeechobee Blvd. in Royal Palm Beach, she jumped at it.
Smith's motto for the shop is "Keeping Haircare Affordable." She also strives to do a great job for the customer, and the same could be said for the other stylists who work there.
Smith sees herself as more of a captain of the team, than as a boss.
"I am the leader of the team, and I'm here to support the team by providing them with what they need in order to take care of the customer and make money," she said. "I'm just like them, only I get to pay the bills, turn on and off the lights, and lock and unlock the door. I know what it's like to be on my feet for 10 straight hours every day."
The shop has been in the same location for 30 years, and several of the stylists have been there for more than half of that time. Renee Travis has been cutting and styling hair there for 18 years, while Debbie Bennett has had a chair there for 15 years.
Liliana Gilmartin and Angela Chambers each started about six months ago. Chambers specializes in African-American and Afro-Caribbean clients.
Smith said she is always looking to take on new stylists — with or without experience. "I'm always looking for dedicated team members, and I'm willing to take on the right person — with the right attitude — and teach them the business," she added.
The State of Florida requires hairstylists to receive 16 hours of continuing education every year, and Smith said those requirements can be fulfilled at seminars at annual haircare shows and conventions in Orlando or Miami.
She said the primary focus of many of the classes is to ensure those who are cutting and styling hair understand the importance of cleanliness and keeping a sanitary working environment for the customer's safety, as well as their own.
A friend of Smith's informed her that the business in Royal Palm Beach was available, and she moved as quickly as she could to arrange the financing and move out of her previous location.
"I love what I do, and the customers. I got a new boost in my enthusiasm and passion for the business. Then this opportunity popped up," Smith said.
She is the third owner of the business, and the previous owner had run the shop for 18 years. Smith's goal is to retain the customers from the previous owner, keep the customers from her previous location and add new clients.
The majority of her current clients are men, and she said men like to be able to stop and get their haircut without making an appointment, as well as not having to wait too long. All of the stylists have regular customers who do make an appointment with them, but Smith said they are all looking to take on new regulars or walk-in customers.
She knows building a great reputation in the community is the key, and Smith is reaching out to potential customers by media advertising and through social media, such as Facebook.
Smith said it's a gamble to take over a different location, and there is a natural tendency to worry about building up a clientele. However, she expects good things ahead. "I know that showing that I'm committed, and being there for the community, will support the business," she explained. "I put everything in God's hands and let him take over."
Royal Crown is open Monday through Friday from 9 a.m. to 7 p.m., and Saturdays from 8:30 a.m. to 5 p.m. The shop is closed on Sundays. Smith said the busiest days are Thursdays, Fridays and Saturdays.
Royal Crown Beauty & Barber is located in the Royal Plaza North at 11328 Okeechobee Blvd., Suite 8, in Royal Palm Beach. To learn more, call (561) 793-9459 or visit www.royalcrownbarberbeauty.com.