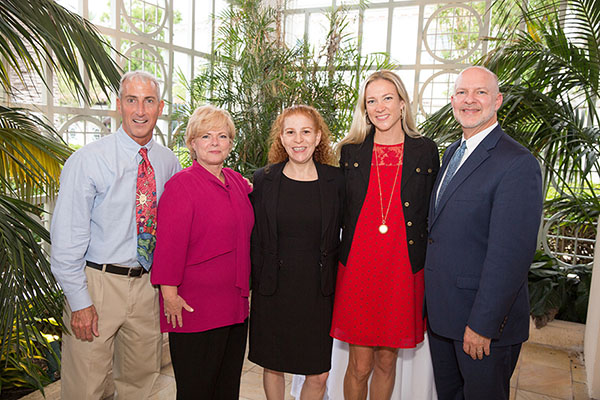 The Palm Beach Fellowship of Christians & Jews kicked off its 25th anniversary season with a successful Welcome Back Reception on Nov. 2 at the Society of the Four Arts in Palm Beach.
More than 150 members and guests in attendance enjoyed the hors d'oeuvres and libations.
Chairman John C. Randolph welcomed everyone, explaining that the organization was founded in 1993, a result of the efforts of a handful of Palm Beach residents who sought to combat intolerance and anti-Semitism that existed on the island at the time.
He outlined programs for the upcoming season, which include Fellowship Friday, Sunday Conversations, the Annual Dinner and the Arts and Essay Contest. A new series, Pizza and Pathways, will be facilitated by Rabbi Howard Shapiro and Thomas G. O'Brien III, who formerly moderated Interfaith Dialogues.
Randolph said he is looking forward to hearing Rabbi Lord Jonathan Sacks speak at the Annual Dinner. His book, Not in God's Name, is about confronting religious violence and is particularly relevant in the world today.
"The fellowship seeks to put an end to that," Randolph said. "We attempt to do that through education and dialogue, by sitting together at the table to attempt to understand what makes us the same and what makes us different and to learn to appreciate those differences."
He also recognized the Palm Beach County teachers who attended the week-long Facing History and Ourselves summer workshop, Holocaust and Human Behavior, in Brookline, Mass., on full scholarships provided by the fellowship. The teachers were: Steve Gordon (Western Pines Middle School), Barbara Johnson (West Boca High School), Melanie Lee (Park Vista High School), Chrissie Ferguson (Rosarian Academy), Chuck Hagy (the Benjamin School) and Mark Risisky (Glades Central High School).
For more information about the fellowship, visit www.palmbeachfellowship.net or call (561) 833-6150.