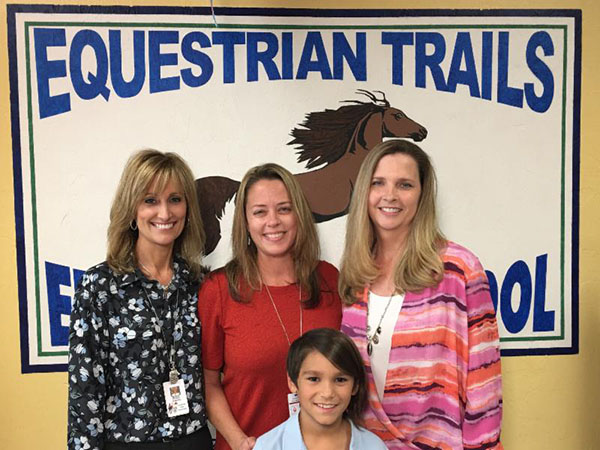 A miracle happened at Equestrian Trails Elementary School last week, thanks to the quick actions of two teachers.
As students filed into the dismissal room to wait for their parents, third grader Kolston Moradi sat down on the carpet and waited to be called to his mother's car in the car line.
In what by all accounts can only be described as a freak accident, the simple force of his weight sitting down sent a newly sharpened pencil that Kolston had put in the side pocket of his backpack into his arm near his armpit. "I didn't really feel anything," he explained. "But when I went to put [the pencil] in my backpack, I realized it was in me, and I pulled it out."
Right away, Kolston went to reading teacher Mandi Kapopoulos, who happened to be nearby, and showed her his injury. ESE coordinator Elizabeth Richards, also nearby, saw what was going on. Both women acted immediately, with Kapopoulos tightly wrapping the sleeve of her shirt around Kolston's arm to act as a tourniquet. Richards ran to get gloves so that she could use her hand to apply direct pressure to the wound.
"My shirt was drenched [with blood]," Kapopoulos said. "And there was a trail of blood all over the floor."
"I have been an educator for 28 years, and I've never seen anything like it," Principal Michele Johnson said.
Richards, who attended nursing school before deciding to become a teacher, laid down on the floor with Kolston while she continued to apply pressure and kept him calm.
As they awaited an ambulance, Kolston's mother, Annalisa Moradi, who was waiting her turn in the car line, received a call to come in to the school. "When I saw the ambulance, my heart sank," she said.
Carrying her two small children, she was taken to her son by Johnson. "At first, I didn't understand what happened, but as soon as I walked in, I felt like the situation was under control. They were calm, and they kept me calm," Moradi said.
It wasn't until they were loaded into the ambulance that the severity of the accident became clear.
The pencil had gone approximately six inches into Kolston's arm, puncturing an artery.
"The EMT told me that if the teachers hadn't acted as quickly as they had, my son would be dead," Moradi said.
Since the accident, the school has taken measures to remind all of the children to keep their pencils in their pencil cases, and seek out an adult immediately if ever they become injured.
Kolston received two staples in his arm, but thanks to Richards and Kapopulous, did not require a blood transfusion. He was insistent that he return to school the next day with a great story to tell.
"You are sending your most cherished people to school, and I know I can send them to school and never have another worry about their safety," Moradi said. "There are no words to say thank you enough."