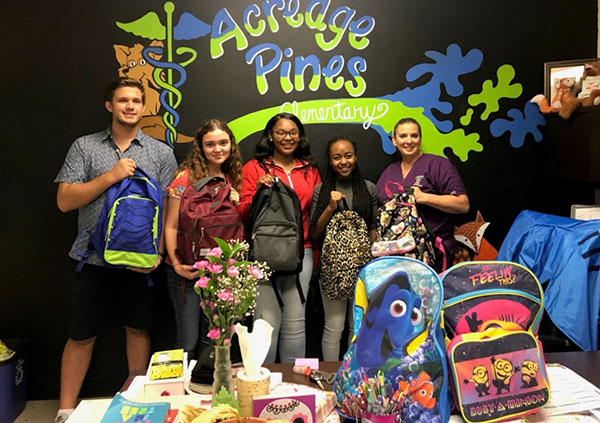 On Oct. 19, the Seminole Ridge High School Spanish Honor Society chapter officers delivered backpacks full of school supplies to Acreage Pines Elementary School to help future Hawks.
Blood Drives Begin Again — On behalf of One Blood and the student blood drive committee, Seminole Ridge thanks everyone who supports the school's annual blood drives.
The parent/community drives continue to grow, as does the number of parents and community members donating toward scholarships. Ten seniors received $14,500 in One Blood scholarships last May. The most important recipients, though, are those in local hospitals needing transfusions, platelets and surgeries.
The 2017-18 on-campus Friday blood drive dates for students are Nov. 10, Jan. 19, April 27 and May 25. Parent and community blood drive dates this year are Thursday, Nov. 16; Wednesday, Jan. 24; and Wednesday, May 2. The times are 3 to 8 p.m. by the gym lobby entrance at the south parking lot.
Golfer, Bowler Advance to States — The SRHS girls golf team placed third in regional play Oct. 24, with golfer Haylie Turnquest earning first place as an individual qualifier for the state finals with a score of 72.
Hawk bowler Nick Healton will advance to state finals as well. With games of 232, 177 and 214, Healton is the top district qualifier.
Students of the Week — The Students of the Week program recognizes Hawks, nominated by staff, for their academic excellence, behavior and assistance with campus events. Congratulations to the Students of the Week for Oct. 16-20: Victoria Terkovich (grade 9), Ryan Blake (grade 10), Jasmine Kelly (grade 11) and Kyle Huff (grade 12). Also congratulations to the Students of the Week for Oct. 23-27: Hailey Thomas (grade 9), Jakob Goldbach (grade 10), Jacob Dodge (grade 11) and Kayla Comer (grade 12).