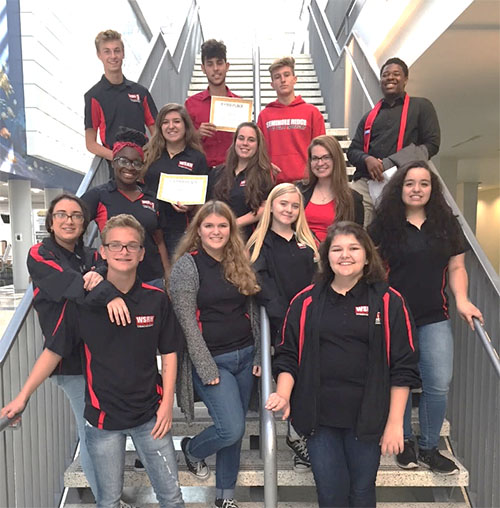 Several Seminole Ridge High School television production academy students competed at the Florida Scholastic Press Association District 7 Convention held Nov. 4, and the students placed in two of three on-the-spot broadcast journalism challenges. Congratulations to Melina Adue, Ana Fontecchio and Carly Swanson, who took the silver in the Live to Tape category, and to Jonathan Alvarez, Chloe Barcia and Danielle Leslie, who earned the bronze in the Broadcast Commentary challenge.
Hawk Thespians Are Critics' Choice — In district competition Nov. 4, students in the SRHS drama program earned not only straight superiors but also were named Critics' Choice and first alternate for state competition. Hawk thespians performed Matt Casarino's over-the-top comedy A Curtain Call to Arms, or The Final Bow.
Congratulations to cast members Kristen Bown, Matthew Coon, Ethan Engh, Deja Gamble, Josh Goodwin, Alexa Grieco, Jonathan Heine, Heidi Higdon, Alexa Koenig, Lindsay Kolhorst, Taylor Ford Loizzo, Emily Moree, Alex Quiggle, Emma Rodriguez and Alyssa Sharpe.
Congratulations also to stage crew members Zachary Borgela, Gabriella Coleman, Giordany Grant, Makayla Hamilton, Emily Moree, Tristen Perez and Alexandra Whittington.
Band Prepares for States — On Nov. 4, the SRHS Winged Regiment marching band competed in Class 4A at the Park Vista Invitational, going head-to-head with bands likely to be the top contenders for the 4A State Championships in a few weeks.
The musicians took the gold in the Music Ensemble category, earning second place in Class 4A and fourth place overall out of 28 bands — the highest scores and placements that Seminole Ridge band students have ever earned at this point in the season, and with only seven more rehearsals until the state competition.
Congratulations also to marching band trombonist Victoria Holt for earning a place in Florida's 2018 All-State Band. Holt was one of more than 100 students who auditioned for one of the band's eight spots.
Raiders Compete at Regionals — The SRHS Army JROTC Hawk Battalion Raiders team took part in a regional meet Nov. 4, competing along with nine area schools in five events: Cross-Country Rescue, Fitness Challenge, Rope Bridge, Team Run and Tire Flip. The Raiders men's team placed fourth in four events and third in one; the women's team placed fourth in three events and second in two. Overall, SRHS came in fourth.
Choristers Chosen for All-State — Congratulations to choral students Freddy Caceres and Danielle Parks, chosen for Florida's 2018 All-State choruses. Both will attend the Florida Music Association's conference in Tampa next January.
Students of the Week — The Students of the Week program recognizes Hawks, nominated by staff, for their academic excellence, behavior and assistance with campus events. Congratulations to the Students of the Week for Nov. 6-10: Melissa Villagas (grade 9), Zoe Childers (grade 10), Faithlyn Taylor (grade 11) and Edgard Maysonet (grade 12).