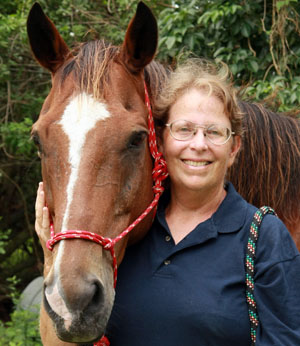 TALES FROM THE TRAILS
Growing up in western Michigan, Dana Glass enjoyed riding, but he didn't get many chances to spend time with horses. However, fate stepped in: a call from his cousin Zac in Colorado, where he was working as a ranch hand. "You wanna job?" Zac asked.
No, not really. Dana hung up, thought about it, and called back 20 minutes later.
"Zac and I had been really close as kids, more like brothers," Dana recalled. "Four days later, I found myself at Sombrero Ranches, riding herd on 1,500 horses. I got hooked."
Dana learned more sophisticated ways of working with horses, how to read their body language and know what they were going to do before they did it. Eventually, he moved to Iowa and worked at a lesson/pleasure/breeding barn. Then, on to a cutting horse ranch in South Dakota. "I try not to limit myself to a single kind of riding," he said. "Learning different disciplines is fun."
Another move, another job: this time a cattle and sport horse ranch in Washington state, where he learned to help problem horses. That's where he met his future wife, Kasey, a dressage rider. Next came farrier school in California, and finally a trip to Wellington in 2015 to shoe horses. He also met people having issues with difficult horses or wanting help starting young stock. It was right up Dana's alley.
"It kinda escalated," he said. "My name got passed around, and soon I had a business riding and training, which is my true passion. I'm really good starting young horses or working through a spot where a horse may get stuck and the owner or rider isn't sure how to help them move forward. The horses and people both become frustrated, and it results in a hard-to-handle horse."
He likes helping them move from worst to best.
"There was one dressage horse I helped," Dana recalled. "The rider had become too afraid to ride, because the horse reared up and refused to move at all. Very difficult. I slowly taught the horse to respect the leg and move forward into the bit. By the end of a month, the owner could successfully ride again. The horse moved forward in all gaits with no hesitation."
Dana said this is a fairly typical problem. When riders ask for too much collection too soon, horses' hind ends can get locked up. By loosening up and allowing the horse to move forward freely, he can help it realign its body so it can perform the movements correctly.
Although he enjoys helping horses work through difficult issues, his favorite work is starting a young horse from scratch. "It's easier not having to undo things that were done wrong," he said.
Recently, Dana got to do just that for one of his clients, Olympic dressage and World Equestrian Games rider Adrienne Lyle.
"Dana started five young horses for me this past summer, both jumpers and dressage," Adrienne said. "He did a great job. He's wonderful to work with. I really enjoy that he comes from such a different school of riding, and yet he's able mesh that with any other discipline. He's always willing to learn and open to new ideas."
Dana said that one of the main challenges is figuring out exactly what will help each horse understand what the rider is asking.
"The horse should be able to comprehend what we want," he said. "Often, riders ask young horses to do too much too quickly. They get confused, frazzled, frustrated, then angry. The trick is to simplify, break the movement down into small, easy-to-do pieces, and work at the horse's pace, then slowly build. The most important part of training is knowing what each horse is capable of doing physically, mentally and emotionally, and not exceeding those limits. It's also very important to take the time to always be fair to the horse. Be gentle, but also be as firm as necessary. If you have to tell the horse no, he has to understand why."
Dana said another challenge is making sure that the horse and rider are on the same page.
"Just because I can ride the horse doesn't mean the owner will be equally successful," he said. "I need to teach the rider what I did and how to keep going with it. Show where the buttons are, and how to push them. Make doing things the right way easier and fun, and doing them wrong harder. That's a good way to stay safe."
Olympian dressage rider Laura Graves also has high praise for Dana. "I was having trouble with a horse, more than I felt I could safely handle," she recalled. "We kept hitting the same wall. He was overly defensive and didn't want me to touch him. Safety comes first. I sent the horse to Dana, and after 30 days, he had solved the problem. The horse was calm, confident and able to progress."
Graves like's Dana's focus on the basics. "Sometimes we focus so completely on our discipline that we can forget the basics of horsemanship," she said. "I watched him ride and found it so refreshing that I came home and applied what he had reminded me of to all the other horses in the barn. I wouldn't hesitate to send him another horse. We throw around the term 'cowboy' loosely, but Dana understands their needs, respects them, and this separates him from the others."
Debbie McDonald, another Olympic dressage rider and coach who currently lives in Idaho, also strongly recommends Dana.
"We'd bred some mares, and he did a lovely job of starting them," she said. "He got them going quite well, and we were very happy. He's a super nice guy who really knows what he's doing."
Currently Dana is spending half the year in South Florida. "I don't deal with heat too well," Dana smiled.
A snowbird rather than a full-time resident, he'll be in South Florida through mid-April. He's available to help with any problem or young horses.
For more information, call (970) 620-1886 or visit www.facebook.com/DanaGlassHorsemanship.