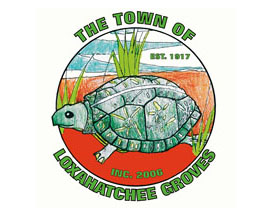 Two seats are up for grabs on the Loxahatchee Groves Town Council during the upcoming election cycle, and two challengers have already come forward to run.
Challenger Neil Hugh O'Neal has filed to seek Seat 1, currently held by Vice Mayor Ron Jarriel, who intends to run for re-election.
Challenger Joyce Batcheler has filed her candidacy for Seat 3, currently held by Councilman Ryan Liang. Liang is undecided on whether he will seek a fourth three-year term on the council.
Qualifying for the March 13, 2018 election will open Tuesday, Jan. 2 and close Tuesday, Jan. 9, which is nearly a month earlier than for past qualifying dates. The change was requested by Palm Beach County Supervisor of Elections Susan Bucher in order to comply with changes in state law.
"Our council chose the beginning of January," Town Clerk Virginia Walton said. "We had options to make the changes. The Supervisor of Elections requested that the municipalities change so she could meet state laws on getting the overseas and military ballots out on time."
Batcheler said the town needs a change, and for someone to come through with ideas on how Loxahatchee Groves can get more revenue to pay its bills and bring the roads up to a safe standard.
"I talk to a lot of frustrated residents every day as to what's happening with the town. Unfortunately, I just don't think there has been enough thought ahead to the future," she said. "As people have come in there, they're just trying to handle today's problems, but they're not really thinking into the future for two or three years, as to what we need to do in order for the town to be self-sustaining."
Batcheler said the town does not have funding instruments in place to support the expenses that are mounting up and infrastructure improvements that need to be made.
"We're living on just a bare ends bones kind of situation here, that if nothing goes wrong, we're barely able to handle ourselves. If we have any kind of catastrophe, we don't have extra money to pull from," she said, pointing out that the town did have enough reserves to be able to pay for Hurricane Irma cleanup.
"The town council has been good stewards of the money in trying to make sure that we didn't overspend, but I also think that what's happened is no one really wants to raise taxes," Batcheler said. "No one wants to pay more money, but in fact, we've been pretty much paying the same money for the last 10 years, and in the meantime, all the expenses keep increasing."
She pointed to the lack of road base rock being put down in the past in order to save money, but now the town has a backlog of road maintenance and upgrades to deal with. "We can't keep scraping it away and not having the money to have the fill that goes back in there," Batcheler said. "That's our dilemma right now. We need all this fill to make these roads passable.
She agrees with the concept of assessments for road improvements discussed at the last council meeting, adding that problems with drainage and water laying on the roads also need to be addressed.
"We can't get the water off of the roads unless we have drainage to get it off, whether it's catch basins or some type of ditches with culverts," Batcheler said. "People take if off of their properties and back onto the roads. The roads are so low that they're actually below the berm surface, so it isn't like the water is going to drain off of the roads."
Learn more about Batcheler's candidacy at www.votejoycebatcheler.org.
Liang, currently finishing up his third term, has not decided whether he will run again, and one of his considerations will be who decides to run against him.
"If I feel that it's a qualified person, I might just let them take over," he said. "I'm definitely trying to weigh out my options, because it's going to be nine years, and I've spent a good part of my adult life on the council. I'm looking to start a family and some other personal stuff. In order to do that, I can't devote time toward family, work and the council."
O'Neal, who has attended council meetings regularly, and once spoke out about the recently reduced speed limit on Okeechobee Blvd., said although he has announced his candidacy, he has not really developed a platform yet.
"I know the town has quite a bit of problems, and I know that I'm pretty young. I'm only 21," he said. "I'm OK with the 30 miles per hour. At the beginning, that was more of a reaction to a change. Once I got used to it, I'm fine now."
Jarriel, who is also finishing his third term and was previously a longtime Loxahatchee Water Control District supervisor, said he intends to run again.
"I think I've done a good job, and I'm definitely concerned about the road conditions and stuff that some of the council members don't seem to be concerned about," he said. "I'm definitely running."
To learn more about the upcoming election, visit www.loxahatcheegrovesfl.gov.