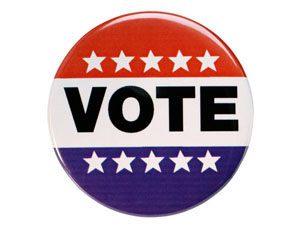 The 2018 election season is starting to take shape in the Village of Wellington. Two seats on the Wellington Village Council will be up for election, and Seat 3 incumbent Vice Mayor John McGovern and Seat 2 incumbent Councilwoman Tanya Siskind will both be seeking full four-year terms.
The election will be held Tuesday, March 13. Previously, candidates could qualify for the ballot as late as the middle of February. However, changes in state law led Wellington to change its qualifying dates. This year, candidates will have to qualify for the ballot by noon on Tuesday, Dec. 19.
Aside from the two incumbents, no other candidates have formally entered the race. However, longtime Wellington resident and equestrian Mason Phelps Jr. told the Town-Crier this week that he is heavily considering entering into the local election for the opportunity to sit on the council.
McGovern was appointed to Seat 3 in January 2015 to replace Howard Coates when Coates was appointed as a circuit court judge by Gov. Rick Scott. McGovern was elected to the position without opposition in 2016. Should he draw a challenger, the 2018 election will be the first time his name will actually appear on the ballot.
"I believe that Wellington is a truly special and unique place in Palm Beach County," McGovern said. "Having been the first council person to have grown up here and then come back to serve on the village council has been a tremendous honor. I also take it as a very serious responsibility and a public trust."
McGovern noted a significant investment in public safety in the village during his years as a councilman.
"In the three years that I have been on the council, we have increased the number of deputies on the street," he said. "We have made a significant investment in road and drainage and trail improvements. We have set in motion a complete overhaul and refurbishment of our water utility. We have made sure that our residents and our community are going to be safe and function effectively from an infrastructure point of view for decades to come."
McGovern believes that during his time on the council, he and his fellow members have changed the community perspective of what the council's role is and the way it behaves as community leaders. In the past, he said, it was difficult for the council to get even the simplest things accomplished.
"I think, in the last two years, we have reversed that," McGovern said. "We have gone to primarily electronic building permits. We have rewritten our codes to make the application process simpler, clearer and more efficient both for our staff and for those who are coming in to petition to get something done, and I think that schools is something that will set us apart and set us on the right trajectory in the future."
McGovern has already held an event to kick off his campaign.
"I want to remain on the council because I want to make sure that Wellington remains the hallmark place for families, both mine and my neighbors and everyone else in Wellington, not only for the 20 years since incorporation, but for the next 20 years," McGovern said. "I think long-term planning, goal-setting within a budget is what we need to do. I think it's what we are doing. I think it's what we continue to do. It's what inspires me every day."
Seat 2 incumbent Siskind was appointed to the council in 2016 to fill the vacancy left when Councilwoman Anne Gerwig was elected mayor. This is Siskind's first election campaign cycle.
"I love the time I've had on the council already, and we're working very well together. I really enjoy working with my fellow council members and the mayor," Siskind said. "We work well together. We all have Wellington's best interests at heart. Even though we don't always agree, when we don't, we disagree respectfully, and we try to maintain a professional image for Wellington and represent it in the best possible manner. I think we can accomplish great things together."
Siskind focused on public service as a key factor for her seeking a full four-year term in Seat 2.
"Anybody who knows me knows I am all about public service," Siskind said. "I'm in the community. I'm connected with the community. I want to see great things happen. Those are the things and the qualities that, I think, we would like to see on the council. Those are the qualities that I think this council possesses."
During Siskind's time on the council, she said that the body has strengthened the relationships and involvement of its different boards and committees in the village.
"We wanted to really reach out to our boards and committees and activate them more, because we did have a lot of people come out for the appointment," Siskind said. "We filled a lot of positions that way, so we have a lot of people in this community who really care. So, working with them has been a real pleasure as well, and we're getting a lot done with the education committee, the seniors committee, the equestrian committee. We've activated them more and included them more, and that has made a difference for this council."
This year, Siskind and the council worked together closely with the Wellington Education Committee to provide the village's public schools money through the annual Keely Spinelli grant program.
"For me, personally, and I think the council would agree, the Keely Spinelli grant is one of our proudest moments," Siskind said. "I think we are one of the only municipalities that does that. But the Keely Spinelli grant is one that's special to us because Keely Spinelli was the principal at Binks Forest Elementary School, and there is history there. Also, we all agree that we need to invest in our schools and help them any way we can."
Siskind looks to continue as a council member with the interest of everyone in the community, giving her the ability to expand on projects already underway.
"I've only been on a short time, so I'd really like the opportunity to continue to serve," Siskind said. "I have a lot of great ideas that are just taking off, and I'd like to see them come to fruition."
Phelps is still in the process of considering whether to enter into the election, and has not yet decided which of the incumbents he would challenge. He has not filed paperwork with the village, but he shared his goals for running with the Town-Crier.
"As long as I have been in Wellington, which has been as a resident since 1988, and a seasonal resident prior to that," Phelps said, "I think, to my knowledge, there has never been a knowledgeable equestrian in an elected position. I think that this community has revolved in a lot of ways around the equestrian world, from the development of Palm Beach Polo, to now, what it is today."
Phelps believes he brings a lifetime of knowledge as an equestrian that the council would find to be an asset it doesn't currently rely on.
"I don't ride, show and compete anymore, and don't have an active livelihood that comes from the equestrian community," Phelps said. "I'm fortunate that I have my own resources, and I don't need to rely on other financial assistance."
Phelps acknowledged the past work that the council has put forward to meld the diversity in Wellington into one community, satisfying equestrian wants and needs with the entire community's best interest in mind as well.
"I think that the village has done cartwheels in order to create harmony in the village, particularly where equestrians are concerned," Phelps said. "We have the Equestrian Preserve and that vote, and the different groups they have put together to advise the council on the pros and cons of what goes on in this community, and I think that, unfortunately, there has been nobody in an elected position that has the depth of knowledge in the equestrian community, so they've been getting a lot of different information from different people."
Still in the process of deciding whether he will run in the upcoming election, Phelps believes that he would add a key element currently missing in village government.
"I think what I would be looking forward to is a harmonious relationship between the council and the community, and specifically the equestrian community," Phelps said. "I think we've got to find a balance between the non-equestrian residents and the equestrian residents that is harmonious for all concerned and in the best interest of the village."
Anyone interested in running for election should contact Wellington Village Clerk Chevelle Nubin at (561) 791-4118 for further information.