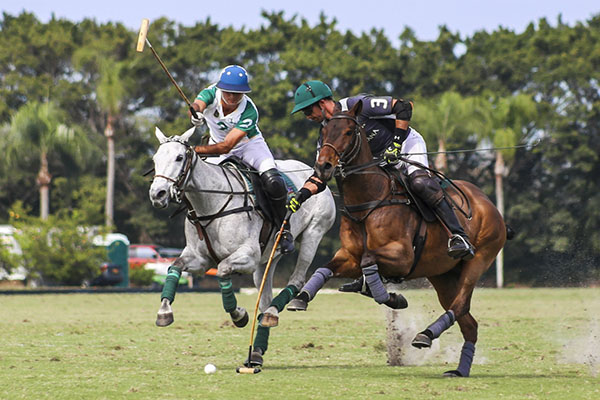 Ushering in the new year is the highly anticipated return of the high-goal polo season to the International Polo Club Palm Beach in Wellington. The United States Polo Association, in partnership with IPC, is hosting both 20-goal and 26-goal season schedules from Dec. 31 through April 22.
"Together with the International Polo Club Palm Beach, the USPA is proud to host some of the most prestigious tournaments in the nation," USPA CEO Robert Puetz said. "The Florida high-goal season always draws tremendous attention to our sport by bringing together many of the world's best players. I look forward to increased competition with additional teams and many new participants in this year's lineups."
Highlighting the season will be four national USPA 26-goal tournaments, three of which make up the triple crown of American polo and culminate with the prestigious U.S. Open Polo Championship. The season will conclude with the U.S. Open Final on April 22, which will be televised on CBS Primetime from IPC.
"The International Polo Club 2018 polo season should be very exciting," IPC Polo Manager Jimmy Newman said. "There are three additional teams entered in the 20-goal Joe Barry Cup than we had last winter, for a total of 11. At the request of the competing teams, we have extended the coming 20-goal season until April 1, making for very competitive polo. A new tournament honoring one of the world's greatest players, Carlos Gracida, will be added as our fifth 20-goal tournament, and we look forward to watching two new teams, Sayyu Dantata's SD Farms team and Curtis Pilot's Sonny Hill team, compete for the first time at IPC."
The USPA would like to extend a warm welcome to 2018's new teams SD Farms and Sonny Hill, and looks forward to the return of many teams from the 2017 season, including 2017 U.S. Open defending champions Valiente, Coca-Cola, Grand Champions Polo Club, Postage Stamp Farm, La Indiana, Travieso, Goose Creek, Villa del Lago/Modere and Valiente II under the new name Colorado.
Many notable players will be participating, including Adam Snow, Mike Azzaro, Gillian Johnston, Julio Arellano, Maureen Brennan, Jared Zenni, Mariano Aguerre, and 10-goalers Facundo Pieres, Sapo Caset and Hilario Ulloa. For full team rosters, visit www.uspolo.org.
Internationally recognized as one of the most distinguished clubs in North America, IPC offers a range of seating options for experiencing the exhilaration of Sunday polo, both casual and luxurious. Tickets for featured games at 3 p.m. can be purchased on game day at the gate, by phone at (561) 282-5334 or online at www.internationalpoloclub.com.
For those seeking a view of the game from the sidelines with an array of delicious food, the Pavilion's Champagne Brunch is available with veranda seating and Coco Polo Lounge VIP options on Sundays at 2 p.m. To make reservations, call (561) 838-3409.
Founded in 1890, the USPA is the national governing body for the sport of polo. The USPA is currently comprised of almost 300 member clubs with thousands of individual members, and oversees 40 national tournaments. For tournament results, game coverage and more information, visit www.uspolo.org.