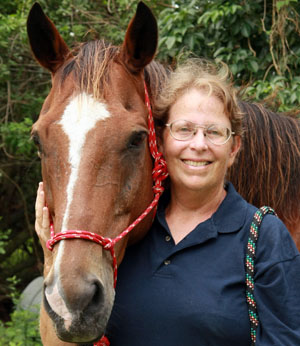 TAILS FROM THE TRAILS
The weather was so gorgeous, it was almost a crime to spend time indoors. However, Black Friday comes but once each year, and the sales beckon.
Although some of the local feed stores, including Turtle Creek, Grand Prix, Gold Coast and British Feed did not focus on Black Friday sales, the Red Barn, located at 12948 Okeechobee Blvd. in Loxahatchee Groves, offered 10 percent off everything and 15 percent off clothing, boots and accessories.
Cashier Antonella Guerra said the sale was great. "Everyone deserves to save for the holidays," she added. "Business has definitely picked up. We have great prices and great products."
Jo Siciliano of Loxahatchee Groves took advantage. "I'm buying shavings," she said. "Lots and lots of shavings. I like doing business here. All the employees are helpful and knowledgeable, and they always have whatever it is I need or want."
Dark Horse Tack, located at 10125 State Road 7 in Royal Palm Beach, offered 15 percent off their online store, plus 25 to 30 percent off western tack sets; 30 percent off English bridles; 25 percent off western saddle pads, breeches and show shirts; tall boots for $100; and 20 percent off many other items.
"We have a lot going on," owner Cecelia McDaniel said. "We've got a great supply of children's western saddles, really nice ones, starting at $350. We haven't had a lot of customers yet, but they'll show up after they're finished at the malls."
Dover Saddlery, located at 11120 S. Crown Way in Wellington, offered 20 percent off Eskadron, Italian bell boots, Back on Track, Parlanti and Pikeur, plus 15 percent off Mattes pads.
"Everything has been going fabulous, so far," Store Manager Wendy Manganelli said. "The Parlanti is a big draw. Traffic has been fairly steady, and we're looking forward to a good season. This year, we're also opening a second location on the WEF show grounds. We'll have a nice sampling of the whole store."
Customer Saleena Hilderbrand and daughter Emily had driven in from Okeechobee for the sale. "I'm a regular Dover customer," she said. "I visit this store at least once each year, and definitely during the sale. We have four horses, everything from ponies to Warmbloods, and I can always find what I need to fit whoever needs it. They've got a great selection… So far, we've got a pair of half-chaps, but I have a hard time stopping. We'll have more before we're done."
Tack N Rider, located at 3031 Fortune Way in Wellington, wasn't offering any special sales. "We have a whole room full of marked down clearance items," owner Prashant Ramani said. "Our customers know what to expect from us."
Indeed, Jocelyn Richards had driven up from Boca Raton to browse there. "I'm away at college," she said. "But every time I'm home, we come here. I love that they offer very different stuff, a really unique selection, a lot of trendier European-style clothing and technical equipment. I find lots of special gifts here for people."
That Friday she found Horse Gloss bracelets with fun inscriptions. "I got this one for my trainer. It says, 'Ride more, worry less.' She worries a lot," Jocelyn said.
On Course Consignment, located at 12773 W. Forest Hill Blvd. in Wellington, had tons of stuff on sale, both new and used. Owner Jacquie McCutcheon also laid out complementary sandwiches, snacks, cookies and soft drinks.
"This year's sale is going good," she said. "We've had a lot of people finding all sorts of things. We've got more than 200 items at 50 percent off, and another 500 at 20 to 30 percent — pretty much a little of everything. We sold a lot of bits today. We have a great inventory of really nice used English saddles."
Lindsey Rosen of Wellington was happily browsing. "I like their prices," she said. "The staff is awesome. So far today I found a halter and lead for the horse I'm leasing."
Everyone's favorite sale was underway at the Tackeria, located at 13501 South Shore Blvd. in Wellington. Special sale items were offered in tented areas outside the store, including riding shirts for $4.99, breeches from $20 to $100, tall boots for $40, saddle pads for $20 and halters for $15.
Inside, select boots were marked down 30 to 50 percent; bits, stirrup irons and bridles were 15 percent off; horse treats, helmets, halters, leads and gloves were 20 percent off; socks, crops, breeches and coats were 25 percent off; dog beds were 30 percent off; and everything else in the store was 10 percent off.
Lucille Solana drove up from Davie just for the sale. "I absolutely love coming here," she said. "I never miss this sale. It's the only one I do. I find lots of great items — Christmas presents, stuff for the barn, you name it. So far, I've collected a stall mat picker-upper, a set of wraps, a bucket, a blouse, all kinds of things."
Gloria Losada visits Wellington for the show season from her home in Columbia. It was her first time at the Tackeria sale. "It's marvelous," she said. "A great opportunity to buy things for my family. My daughters jump, and my husband plays polo. There is a great selection. I found everything I was looking for."
Owner Tony Coppola was busy drawing cards from the box on the counter (only one card per customer) and handing out free door prizes.
"We've got a good crowd, but this has been a tough year," he said. "There's a lot more competition for tack shops from Amazon and other online retailers. But, so far, October and November have been healthier. The sale's going well. We provide a unique service and maintain a huge inventory. Everyone walks out with what they were looking for. We've been in Wellington for 43 years. We're not going anywhere."
Samantha McGreevy of Plantation agreed. "I'm a repeat customer," she said. "I can always find what I need at the Tackeria. I love this sale. It's a great way to save some money on horse stuff."