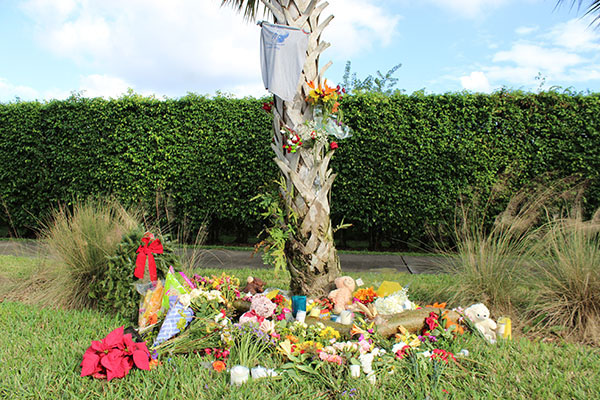 A deadly crash in southern Wellington left the local equestrian community reeling this week.
Local equestrians Dana McWilliams, Christian Kennedy and Elaine Halloran were involved in the accident that took the lives of both McWilliams and Kennedy. Halloran was critically injured and taken to St. Mary's Medical Center, according to a report released by the Palm Beach County Sheriff's Office.
The accident happened Saturday, Nov. 25 a few minutes past 11:30 p.m. on South Shore Blvd., just north of Lake Worth Road.
According to the PBSO report, McWilliams was driving a 2013 Chevrolet Camaro at a high rate of speed southbound on South Shore Blvd. when she lost control of the vehicle and drove onto the center median. Once the vehicle was on the center median, it struck several trees before stopping several hundred feet from the initial impact.
McWilliams, 19, and Kennedy, 21, riding in the front passenger seat, were pronounced dead at the scene.
The crash sent shockwaves through Wellington's tight-knit equestrian community.
Several friends of Kennedy spoke to the Town-Crier about someone they expected to be a rising star in equestrian circles. Originally from Iowa, he moved to Wellington a few years ago to pursue his passion riding dressage.
Kennedy recently began working with well-known dressage rider and trainer Oded Shimoni. A memorial for Kennedy was held at Shimoni's stables on Wednesday, Nov. 29, where loved ones were able to gather, mourn and honor his life.
Local equestrian Blaire Martindale is someone who embraced Kennedy the moment he arrived in the community. She remembers Kennedy for his ever-present, selfless attitude.
"He was an eternal optimist with big dreams that never scared him," Martindale said. "If he was told 'no,' he would just get better or find a better way to do it. He was one of the strongest people I knew in that sense."
Martindale said Kennedy was realizing his dreams recently, particularly once he landed a position with Shimoni.
"He said, 'I am going to work for him one day.' And, he did it," Martindale said. "He made it happen. He started showing. He showed down here. He left his footprint wherever he went. He didn't let a single thing go unaccomplished like he wanted to do."
Almost as soon as Kennedy met Martindale, she introduced him to local equestrian Ted Rekai-Nuttall at a social gathering at his home. Rekai-Nuttall and his husband became mentors and at times a home for Kennedy to continue to pursue his goals as a rider in Wellington.
"He walked into the house for the first time, and I think he wasn't prepared for an entire group of people who were going to be around him for his entire rest of his life in Wellington," Rekai-Nuttall said. "He got to us, and was wet behind the ears, and hadn't really experienced Wellington as it is. He was working his butt off for absolutely no money at the time."
Rekai-Nuttall said he plans to emulate the spirit with which Kennedy graced everyone he met, adding that Kennedy never had a pessimistic outlook on his own life or in general.
"He came to Wellington, and he knew what he wanted in life, and wanted to make a go of it in the horse industry. We all know what that is like. It's next to impossible," Rekai-Nuttall said. "He would forsake everything else to get himself ahead in this industry. Did he have money for food? Maybe not. But, he was riding, and he was trying to get himself forward… And he was starting to really get that. In the last year, he was making a little corner for himself, which I know would've turned into something big."
Martindale said Kennedy was someone who never let anyone feel left out in a group setting, always approaching people with a great interest. "I think the most that you can take away from him is if you want it, just go after it, and just always do it with a smile on your face, making sure you help everyone along the way," Martindale said. "That's what he did every single day."
Those close to him said they will not forget his warm spirit.
"It's terrible, and there is no getting over it. And that's the thing. This is one of those people who comes into your life that you're not going to get over," Rekai-Nuttall said. "You can say something to the effect of people come into your lives for a reason. Yeah, they come into your lives for a reason, but they shouldn't leave for this reason. There was no justification for it."