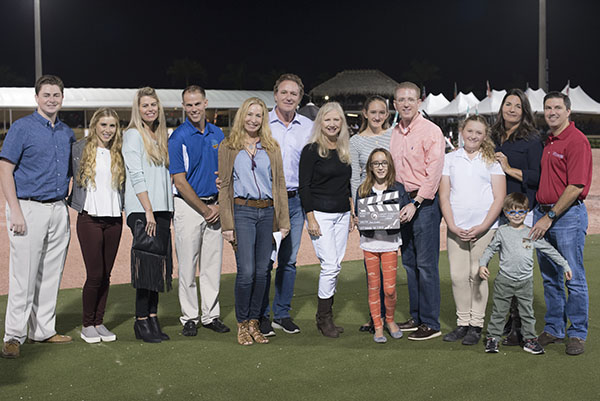 What if stardom wasn't about Hollywood movies, holding a gold record or having a million followers on Instagram? Determined to redefine what true stars look like, the Palm Beach International Equestrian Center had local nonprofit organizations center stage during the $216,000 Palm Beach County Sports Commission Grand Prix CSI 4* on Saturday, Dec. 2.
With more than 330 applications received for the chance to participate in the 2018 Great Charity Challenge, presented by Fidelity Investments, the excitement level was high to see whose names would get drawn out of the lottery drum. At stake: a chance to share the $1.5 million purse. To date, the event has distributed $10.8 million to more than 220 Palm Beach County charities. A total of 24 charities were drawn throughout the evening's festivities.
Event founders Mark, Katherine and Paige Bellissimo were assisted by Wellington Mayor Anne Gerwig, Vice Mayor John McGovern, council members Michael J. Napoleone and Tanya Siskind, Senior Marketing & Communications Manager of the Palm Beach County Sports Commission Scott Glinski, Chelsea Lasater on behalf of Fidelity Investments, Wellington student and national anthem singer Noah Zaidspiner, as well as GCC sponsors Carlene Ziegler, Caroline Moran and the Carolex Stables family.
"We are very excited to see such a diverse group of nonprofit organizations join us for this ninth edition," Paige Bellissimo said. "It reflects exactly why we do these drawings randomly: so that everyone has a chance to participate. We hope to inspire the community at large to get involved with some of these local nonprofits by promoting volunteerism throughout the season."
Charities drawn include: Alzheimer's Community Care, Back to Basics, Big Dog Ranch Rescue, Boys & Girls Clubs of Palm Beach County, Busch Wildlife Sanctuary, Christopher Aguirre Memorial Foundation, Education Foundation of Palm Beach County, Elder Affairs Program/Catholic Charities of the Diocese of Palm Beach, Families First of Palm Beach County, Florence Fuller Child Development Centers, Gulfstream Goodwill, Hope 4 Mobility, Kids Cancer Foundation, Peggy Adams Animal Rescue League, Quantum House, Special Olympics of Palm Beach County, Spirit of Giving, Stem HQ dba TechGarage, Step by Step Foundation, Susan G. Komen South Florida, the Glades Initiative, the Rotary Club of Wellington, True Fast Outreach Ministries, Wellington PTA/PTO/PTSA and West Palm Beach Library Foundation.
Future charity drawings will be held at random during the first weeks of the 2018 Winter Equestrian Festival, and the final two wild card teams will be drawn the night of the big event.
"If you need your faith in humanity restored, this is the place to be," said Anne Caroline Valtin, executive director of the Great Charity Challenge. "Being surrounded by so many passionate and dedicated individuals is extremely inspiring. We are truly grateful to them for their work in the community and to the amazing sponsors for making this event possible."
Mark your calendars for the 2018 Great Charity Challenge, to be held on Saturday, Feb. 3 during WEF's Saturday Night Lights series. This family-friendly event offers free general admission and will feature this year's event theme: "A Night When Everyone's a Star," celebrating Hollywood feature films. For more information, visit www.greatcharitychallenge.com.