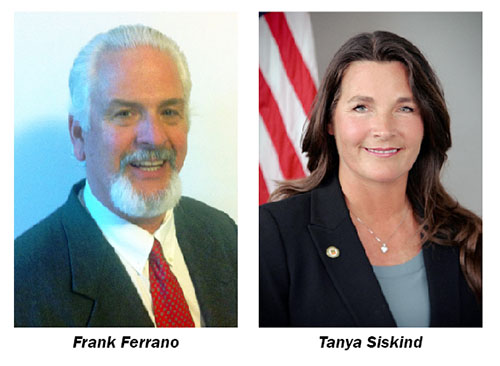 When filing closed at noon on Tuesday, Dec. 19, four candidates had qualified for the Tuesday, March 13, 2018 election ballot for two seats on the Wellington Village Council.
In the race for Seat 2, incumbent Councilwoman Tanya Siskind will face engineer Frank Ferrano, while incumbent Vice Mayor John McGovern will face community activist Bart Novak in the race for Seat 3.
This is the first time Siskind will face an opponent through the election process after being appointed to her seat in 2016. She said she loves her role on the council and wants to continue to work on the projects she has started, both on her own and with the council as a whole.
"I'm working on a few things myself with the schools, one of them involving the Vinceremos Therapeutic Riding Center to do a therapy riding program for some of our students who have special needs," Siskind said. "As well as a mentoring program with our education committee and senior committee — things like that, that I have been personally working on, as well as the big things that we've been working on together regarding the village."
Siskind said the task at hand fits right into her natural willingness to schedule many things into her daily routine.
"I am the type of personality who thrives on that. I'm better off having 10 things to do in one day," Siskind said. "I love it. I go from thing to thing. People always say, 'I don't know how you do it. You have three kids and all these other responsibilities.' I just love it. It's what I do. I wouldn't want to have a day where I wasn't having a lot of things to attend or to volunteer."
Now that the ballot is set, Siskind is going about her business as usual to fulfill her role on the council. Right now, council members continue to go out into the community during the holiday season to show their support.
"We just visited Palms West Hospital with Interfaith of Wellington, and the Palm Beach Sheriff's Office was there. They had Santa Claus, and we delivered toys to the kids in the ICU and the ER. That's what I enjoy doing," Siskind said. "That's what I have always done and will continue to do."
Also seeking Seat 2, Ferrano is new to the election process in Wellington but has prior experience in the village as its former utilities director. Ferrano wants to bring his engineering background in the public and private sector to a seat on the council.
"In a village like ours, there are a lot of public works activities that take place — parks, buildings, roads," Ferrano said. "So, I just want to be able to help to make sure that tax money is spent as efficiently as possible, today, as well as looking into the future, as we make those kinds of improvements. I'm semi-retired, so I have the time to help and do those things."
Ferrano views the council seat as an opportunity to apply his years of experience in public works. He wants to combine the two experiences in the private and public sectors, and help the continued development of the village as efficiently as possible.
"It would just improve the quality for the people who live in Wellington, whether it's parks and recreation and the development that occurs, so we don't overdevelop or improperly develop," Ferrano said. "Because once you make an improvement and develop, you're going to live with it for an extended period of time."
Ferrano believes his expertise can be greatly utilized as a member of the council.
"I just want to make sure that I lend my experience to that, and make sure it's spent as cost-effectively as possible for myself and all the other taxpayers," Ferrano said. "But there isn't any negative reason why I'm running… I just think I have a lot more experience in those fields than any of the other candidates do."
McGovern will campaign to return to Seat 3 on the council. This will be his first Wellington election running against an opponent, after being appointed to fill a vacancy in 2015 and securing two additional years without opposition in 2016. He is now seeking a full four-year term.
McGovern said his goals have remained the same since the time he began his role as a councilman in Wellington.
"As the first person to have grown up in Wellington to have come back and serve on the council, it is personal to me that we, as a council, are implementing policies and setting a course of action not only for today, but for the long term, that will keep Wellington a desirable place for families to live, so that my children and all the children of Wellington today will look at Wellington as a place they will want to come back to and raise their family, just like I'm doing," McGovern said.
McGovern is focused on many aspects of the village, and he said one of the most important is that the village continue to demonstrate core values of family, schools, parks and neighborhoods in all its actions.
"We have increased and continued the Keely Spinelli [school] grants to support our belief and our residents' belief that having top-notch, local, neighborhood public schools translates directly to a more desirable community and higher property values," McGovern said.
He is also proud that the village joined the fight against the opioid crisis early on and hopes to see a greater amount of support from the state and federal governments to better manage aspects of the crisis, such as issues surrounding sober homes.
"I insisted upon it, and my colleagues joined me because we know that we need state action and federal action to combat the opioid crisis and sober homes," he said.
McGovern seeks to continue serving in his role as a community leader in the village he grew up in.
"I believe that when you look at me as council person, or as the vice mayor, or as a candidate, what you see is what you get," he said. "You get somebody who is passionately committed to Wellington through-and-through and who wants to do everything possible to make sure that this is a premier community to live in both today and on into the future."
Novak, who considered running for a council seat in 2016 before deciding against it, is a frequent attendee at council meetings and often comments on community issues. He plans to campaign against McGovern for Seat 3 but was unavailable for comment when reached by the Town-Crier this week.