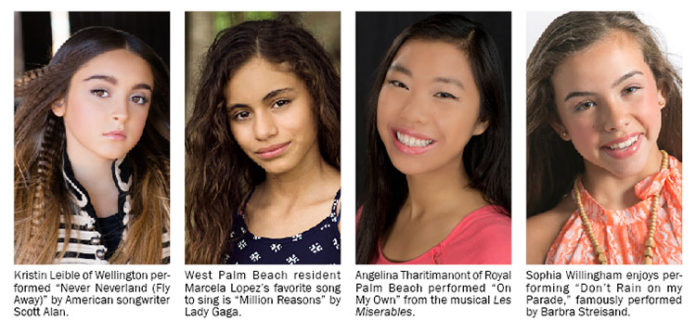 Four Palm Beach County singers performed at Carnegie Hall in New York City during the weekend of Saturday, Dec. 16. It was under the tutelage of Mike Soper of Mike Soper Music in Wellington that the singers found themselves on the famous stage to perform.
Soper's performing students included Angelina Tharitimanont, Sophia Willingham, Marcela Lopez and Kristin Leible.
Tharitimanont, Willingham and Leible all attend the Bak Middle School of the Arts in West Palm Beach, while Lopez is a student of SLAM/Sports Leadership & Management Middle School in Miami.
Tharitimanont, 13, is a resident of Royal Palm Beach. She performs a Broadway/musical theater style of singing, and she is a pianist. Under the training of Soper, Tharitimanont has also performed in various music venues, including a performance of The Star-Spangled Banner at Roger Dean Stadium and was a finalist in Wellington Idol.
Willingham, 12, is a Wellington resident. She performs a musical theater style of singing, and she is a pianist. She began vocal lessons with Soper in February 2015 and immediately had an affinity for the musical theater genre. She was named a finalist in the Starz of the Future Talent Competition in December 2017 and was a finalist in the Wellington Idol Vocal Competition in 2016 and 2017.
Lopez, 11, is a West Palm Beach resident. She performs all styles of singing, and she is a pianist. When asked about her aspirations as a singer, she said, "It's something I love to do and will continue to do, and I want to get better and better." Lopez has participated in Wellington Idol and in Tri-Rail's Kids Got Talent singing competitions.
Leible, 13, is a Wellington resident. She performs Broadway/musical theater and pop music singing styles, and she is a pianist. Leible recently performed the song "Memory" from Cats to the International Thespian Society and was recognized as a Superior Solo Music Theater performer.
Wellington-based Mike Soper Music is a talent development and production company. Soper is the voice coach, music producer and talent scout. His school has produced and accompanied talent that has performed on stages all over the United States and Canada, including major networks and venues such as The Voice, American Idol, America's Got Talent, Carnegie Hall and Broadway.
Soper is also a songwriter, keyboardist, vocalist and founding member of the international touring Journey tribute band Odyssey Road.
For more information, visit www.mikesopermusic.com.