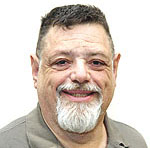 'I' ON CULTURE
The good news is that Star Wars VIII: The Last Jedi is an action-packed treat for fans of the franchise. Although there are a few slow bits, usually to impart key information, things keep moving. Despite its more than two-and-a-half-hour length, it easily keeps the audience's attention. The bad news is that there are some people who assume somehow it will be perfect.
Director/writer Rian Johnson not only keeps the action moving but develops many of the characters we met in The Force Awakens. We learn the backstory of many of them and get to watch a whole series of relationships develop that were barely touched upon in the earlier film. Johnson also turns the Force in on itself; it is everywhere and does not require the Jedi or the Sith. Anyone might control it.
The movie begins right where the earlier one left off. The First Order has been commanded by Supreme Leader Snoke (Andy Serkis, in another brilliant motion capture performance) to wipe out the Resistance. In a major battle, heroic pilots led by Poe Dameron (Oscar Isaac) delay the fleet enough to allow an evacuation led by General Leia (Carrie Fisher).
Finn (John Boyega) wakes up from his coma and tries to go after Rey (Daisy Ridley), who has left looking for Luke Skywalker (Mark Hamill). He is diverted from his purpose by Rose Tico (Kelly Marie Tran), mourning the death of her hero sister, one of the key pilots. Much of the film focuses on the attempts of the last ships of the Resistance escaping. Finn and Rose go off on a project to find someone to crack open the codes of the First Order ships to allow an escape. This subplot works wonderfully.
During all of this, we see Rey trying to persuade Luke to return to the Resistance. Things don't turn out the way she planned, however, as Luke is suffering massive guilt, convinced that he had let down the whole Jedi Order.
Eventually things sort of work out. One of the best things about the film was the development of real relationships. Somehow bad guy Kylo Ren (Adam Driver) and Rey are connected. They communicate over long distances as she tries to turn him to the good side of the Force and he works to change her. The tension between them builds throughout. Poe and General Leia also have tension, and there are some interesting twists in the relationship between Finn and Rose.
There is the usual mix of non-human characters. There is a sort of strange horse/lamb combination on Canto Bight, the gambling planet that is important, and a weird group of crystal foxlike beings on another planet. And, of course, there are the porgs, a rather useless and overly adorable group of birds designed to be the ideal Christmas present for millions of kids. They don't do much, but were quite cute.
There are the usual great set pieces and special effects that we have come to expect from this series. And, even better, there are echoes of past episodes. The complex relationship between Ren and Rey is a sort of salute to some of the "I am your father" and "We're brother and sister" bits from the first series. The reveal on who her parents are is a surprise, however.
The cast is uniformly excellent. Ridley and Driver dominate the emotional end and both are particularly strong. Hamill, who was at the center of the first series but was largely emotionally passive, is far stronger here. His performance is rich and touching, as he blames himself for all that has gone wrong. And, of course, everyone loves Carrie Fisher.
I think Tran is a real find. She shades the emotions of her part really well, enabling Boyega to be a far better performer. Laura Dern was also excellent in a key pivotal role.
This is not a perfect film, and I hate that some people start ranking the films in terms of which they think is best (an opinion at best). I prefer to rate movies on how good a time I had watching them, and I had a ball with this one.
It was good enough that my wife said as we left, "You know, I could come back and see this one again in a few weeks." That is the ultimate compliment, and it is deserved. See this one, and the Force will be with you.