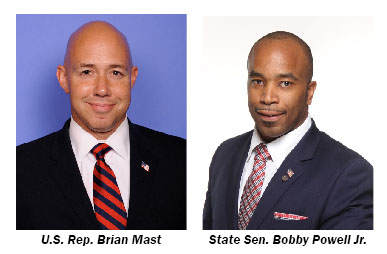 U.S. Rep. Brian Mast and State Sen. Bobby Powell Jr. will give the keynote speeches at Palm Beach State College's fall commencement ceremonies for more than 2,700 expected graduates.
Two ceremonies are set for Dec. 19 at the Palm Beach County Convention Center. Mast, who is in his first term representing Florida's 18th Congressional District, will speak at the 10 a.m. ceremony for graduates of the associate in science, bachelor's of applied science and bachelor's of science degree programs, and the certificate programs.
Powell, who is in his first term representing District 30 in the Florida Senate, will speak at the 2 p.m. ceremony for associate in arts transfer degree graduates. About 58 percent of the graduates are earning an AA degree.
Anyone who cannot attend the ceremonies can view the live streams on www.palmbeachstate.edu.
Mast is a member of the Foreign Affairs Committee and the Transportation and Infrastructure Committee. Prior to his election to Congress last year, he followed in his father's footsteps by serving in the U.S. Army for more than 12 years, earning the Bronze Star Medal, the Army Commendation Medal for Valor, the Purple Heart Medal, and the Defense Meritorious Service Medal.
Powell, a professional planner who works as a project manager with Urban Design Kilday Studios in West Palm Beach, is the first and only American Institute of Certified Planners (AICP) member to serve in the Florida Legislature. After serving as a legislative assistant to then-State Rep. Mack Bernard, he successfully ran for the State House in 2012 and won a seat in the State Senate in 2016.