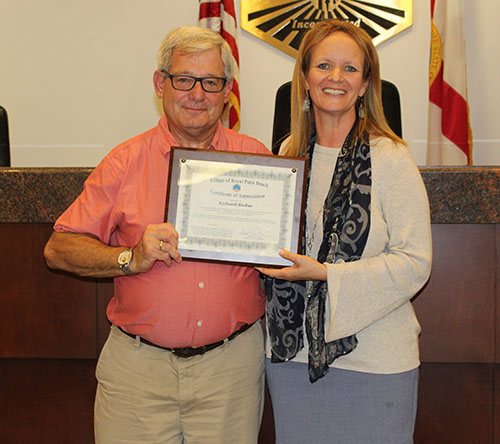 The Village of Royal Palm Beach said farewell to Planning & Zoning Commission Chair Richard Becher on Monday, Dec. 18.
Becher is leaving the board because he is moving from the village. He led his final meeting of the commission Monday, which included several decisions regarding signage and architectural issues.
"I remember a couple years back, [former Councilman] Dave Swift, when he came out of retirement, if you will, had an article in the newspaper about what was going on," Becher recalled. "I remember when asked, Mr. Swift said… 'It's a lot harder to be a commissioner than being a council member,' and I believe him. I have been honored. It has been a privilege to serve."
Becher also thanked longtime Commissioner Jackie Larson, as he stood to give her a round of applause at the meeting.
"Commissioner Larson has served this commission for more than 20 years, close to 25 years," Becher said. "She has been my mentor ever since I came on the commission."
Councilwoman Jan Roduksy thanked Becher for his time of service on behalf of the village. She presented him with a plaque of recognition on behalf of Mayor Fred Pinto and the entire Village of Royal Palm Beach. She read a short statement about commitment in honor of Becher.
"[Commitment] is what transforms a promise into reality. It is the words that speak boldly of your intentions and the actions that speak louder than words," Rodusky read. "It is making the time when there is none. It is the daily triumph of integrity over skepticism."
Becher's current term had been set to expire in March 2019. The Royal Palm Beach Village Council will appoint a replacement.
During the regular meeting, the commissioners approved four applications.
An application for Little Caesar's Pizza (11328 Okeechobee Blvd., Bay 4) in the Royal Plaza North shopping center proposed a new wall sign. A registered trademark was submitted for the commission's review. The proposed sign eliminates the Little Caesar character.
"The established pattern in the development is for all the signs to be blue," Development Review Coordinator Kevin Erwin said.
Commissioner David Leland made a motion for approval, seconded by Larson and passing unanimously.
The commission also approved an application to repaint the Pollo Tropical restaurant, located at 107 S. State Road 7 near Lowe's Home Improvement. The new colors update the building to the current brand colors: Sherwin Williams 6381 Anjou Pear, Sherwin Williams 6423 Ryegrass and Sherwin Williams 6379 Jersey Cream.
Leland made a motion to approve the application, seconded by Commissioner Ross Shillingford. It passed unanimously.
The commission next approved an application for signage and architectural approval for a self-service storage facility at 10719 Southern Blvd. The application sought to make changes to wall and monument signs for the business, which is rebranding. The new sign will say Smart Shop Self Storage with a blue background and green letters.
There is a proposed cabinet sign to help direct people to the office location on the property. The applicant also wants to remove a blue awning that currently exists on the building to make way for a proposed new office sign. A registered trademark was provided to the commission.
Shillingford made a motion to approve the item, seconded by Commission Alternate Charles Plummer. It also passed unanimously.
Finally, the commissioners unanimously granted Image 360 Studios, a newly established salon franchise at 11041 Southern Blvd., Suite 120, in the Southern Palm Crossing shopping plaza, a request for a special exception use to allow state-licensed massage therapy services on site.