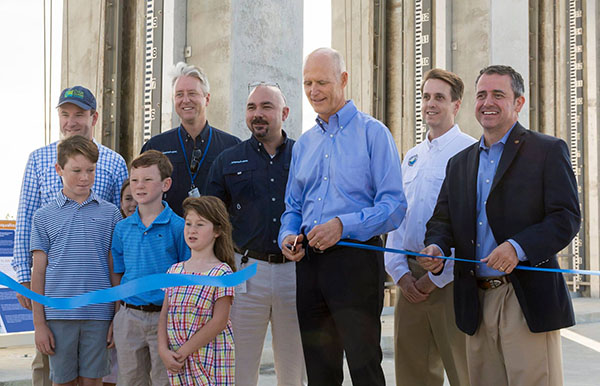 Gov. Rick Scott attended a ribbon-cutting ceremony for the L-8 Flow Equalization Basin near Palm Beach Aggregates on Monday, Nov. 20.
The nearly 1,000-acre reservoir will store excess stormwater in a series of 50-foot-deep pits for settling of phosphate-laden silt before releasing it to stormwater treatment areas to the south to produce a monitored flow as part of the overall Everglades restoration plans.
The project included digging a pit for an immense sump pump 60 feet below sea level that will pump water out of the series of lakes.
South Florida Water Management District Executive Director Ernie Marks welcomed those who had come out to attend the ceremony.
"I know a few of you have been out to this site in the past, something that we affectionately referred to as 'the giant hole in the ground' while it was under construction," Marks said. "This is one of the key projects for Everglades restoration."
Several years ago, Marks said, he went on an aerial tour of the site with state leaders.
"I was in the helicopter that actually went down to the bottom of the reservoir, and now I can tell all my friends and family the story of being one of the brave few who flew below sea level in the State of Florida," he said. "Today, that big hole becomes an integral part in restoring the Everglades, and the restoration strategies plan set forth by Gov. Scott."
He said the project would not have been possible without the determination to get the water right.
"Initiatives like these were necessary for a healthy ecosystem, which in turn provides a healthy economy that all Florida families depend on," Marks said. "Improving the ability to store and provide clean water is paramount to one of our nation's greatest treasures."
Scott said that when he was elected in 2010, he walked into a $4 billion budget deficit and two federal lawsuits over how the state was going to clean up the water around the Everglades.
"We worked hard to get a settlement done where we would commit funds over a period of time and clean up the water, and we've done a lot of other projects to create lots more storage," he said. "Everglades restoration has been clearly a priority over the last seven years, and when I ran, I talked to a lot of people about the Everglades, and what they said was that the state never finishes projects. What you can see today is we finish projects."
Scott noted that the state has invested more than $1.8 billion to restore Florida's Everglades. "This project has been under construction since 2012, and it's part of our $880 million restoration strategies planned," Scott said. "This is a 58-foot reservoir, which will help the water quality and expand the water storage for Lake Okeechobee. We have made historic progress with environmental restoration projects in the last seven years, but we've got a lot left to do."
He said the reservoir will provide 14 billion gallons of storage capacity. "We're not doing this just for now, but for our kids and grandkids," Scott said. "I've got grandkids, and I want to make sure they want to live in Florida because we have a pristine environment."
Scott said he recently put out his Securing Florida's Future budget, which includes millions of dollars for continued environmental restoration.
"I'm going to keep fighting for the environment," he said. "It has got $355 million, which is a record for Everglades restoration projects. We have $50 million again this year, and we had $50 million last year, to be part of the federal restoration of the dike at Lake Okeechobee. This is a federal project. We've asked for years for support. President Trump is now committed, and I want to thank him for doing that."
Scott said he hopes to see the dike restoration finished by 2022.
The state has $1.7 billion committed this year for environmental projects, including a record $55 million toward restoration of freshwater springs and a record $100 million to restore beaches damaged by hurricanes Matthew and Irma, plus $50 million for parks.
SFWMD Governing Board Chair Dan O'Keefe said the flow equalization basin is an example of restoring the environment that all Floridians can enjoy.
"The L-8 flow equalization basin is a one-of-a-kind engineering marvel," O'Keefe said. "It was recognized by the Florida Engineering Society as one of the most important engineering projects in Florida over the last 100 years."
He explained that the basin is a former rock mine, and the outflow pump station was constructed more than 60 feet below sea level, making it the most massive structure in the SFWMD system.
"There is a very unique geology here that we don't see very commonly throughout South Florida," O'Keefe said. "Because of that, we don't have hardly any seepage in L-8. We have roughly 45,000 acre-feet of storage that can be held in the [flow equalization basin]. That's just shy of 14 billion gallons of water."
The inflow structure is about 450 feet long, which takes water from the L-8 Canal when available. It has 2,200 tons of concrete poured around 1,200 tons of steel.
"It is designed to move water into the reservoir at 3,000 cubic feet per second," O'Keefe said. "That's moving a lot of water when we need to move the water."
The structure can be operated remotely from the SFWMD headquarters. "When we're in that storm event, or that major rainfall event, we don't have to have people out here manually operating this system," he said. "It can be done through our remote access. It is a unique treasure and combination of skilled professionals from top to bottom."
Drew Bartlett, deputy secretary for the Florida Department of Environmental Protection, said he appreciated that the state is now paying scientists and engineers rather than attorneys.
"Were all on the same page," Bartlett said. "We're moving for Everglades restoration, and this is the fruit of these labors. The district staff are working their tails off. They are working here, they are working south of here, they're working north of here, west of here and east of here — all for Everglades restoration."