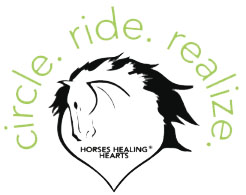 Liz Olszewski has a special affinity for children impacted by drug addiction because, as the daughter of alcoholic parents herself, she understands the often-invisible struggle they face each day in a bid to achieve a small measure of the "normalcy" others take for granted.
That's why, in 2009, she founded Horses Healing Hearts, a nonprofit that uses horses and their care to help the children of parents struggling with addiction, build self-esteem and confidence. It has become a labor of love for the 1992 graduate of the University of Dayton, who now serves as the organization's executive director.
On Feb. 9, with the help of honorary chairs Dave Aronberg, Peter Wylde and Roxanna Cella, Horses Healing Hearts will host the charity's seventh annual White, White West fundraiser at the Wellington National Golf Club, where guests can enjoy an evening of entertainment and dance to benefit this one-of-a-kind program. Dress is white western chic.
"The children are often the first to be affected by their parent's disease and the last to be helped," Olszewski said.
Horses Healing Hearts hopes to raise more than $100,000 this year through ticket sales, corporate sponsorships, and proceeds from live and silent auctions. Each $125 ticket, available online at www.hhhannualbenefit.com, includes valet parking.
A limited number of sponsorship opportunities also remain, but the nonprofit has a Jan. 19 deadline for those wishing to participate.
"Liz is a great leader and spokesperson for her organization because she is so passionate," said Wylde, a USA Olympic equestrian and winner of a gold medal in team jumping at the 2004 Olympic Games in Athens. "When I went to one of the afternoon sessions with the kids and listened to them talk and interact with the horses, I was all in. It's just another way we can give back to the community and fulfill our responsibility as human beings to help others."
The only organization of its kind in the nation, Horses Healing Hearts not only deals with the children of addicts, it also provides equine-assisted therapy to help adult clients recovering from substance abuse addiction.
"We can't arrest our way out of the opiate epidemic," State Attorney Dave Aronberg said. "We need programs like Horses Healing Hearts, which helps young people in distress and prevents tragedies before they occur."
Especially relevant in this season of shopping and giving, any purchases made through Amazon Smile https://smile.amazon.com with Horses Healing Hearts listed as your charity will donate a small percent to the nonprofit at no charge.
To donate directly, or for more information, visit www.hhhusa.org. To buy tickets for White White West, visit www.hhhannualbenefit.com, www.facebook.com/HHHUSA or call (561) 308-6431.
For sponsorship information, e-mail Laura South at laurasouth@comcast.net or call (561) 371-7818.