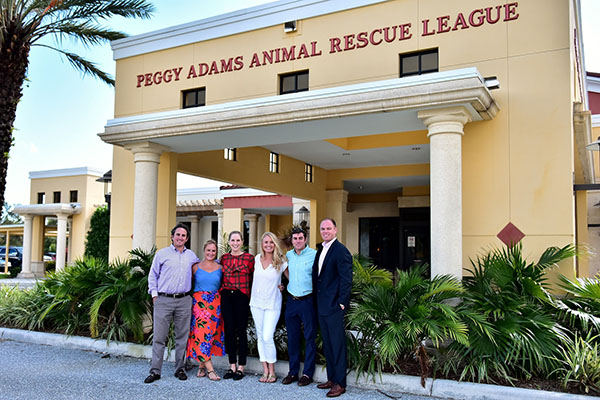 The Peggy Adams Animal Rescue League recently announced the formation of a Junior Committee to be chaired by Judy and Fritz Van der Grift.
Fritz grew up in Palm Beach and attended Palm Beach Day School. He graduated high school from Deerfield Academy and received his bachelor's degree in political science and Spanish from Palm Beach Atlantic University in 2010. Fritz is a financial advisor at Morgan Stanley in West Palm Beach, where he specializes in wealth management with a focus on complex trust and estate planning issues.
Judy also grew up in the area, attending the Rosarian Academy and then Cardinal Newman High School. She received her bachelor's degree from Florida State University, her nursing degree from the University of Miami and most recently her family nurse practitioner degree from Georgetown University in 2017.
The Van der Grifts were married in October 2014 and live in West Palm Beach with their two Weimaraners, Hans and Lady.
Their love for animals has encouraged them to take on the challenge of leading the Peggy Adams Animal Rescue League's newly formed committee. They are encouraged by the positive feedback and are very excited to get started.
"It's so important that we create a sense of ownership and responsibility within the next generation to care for these animals," Judy said.
Fritz added, "I was blown away by the amount of interest among my peers who wanted to get involved. It reminded me that caring for animals is such a universal cause that spans across all groups. We are very excited about this new committee and are thankful for the opportunity to lead it."
Committee members to date include Billy and Katie Benjamin, Turner and C.J. Benoit, Kevin Clark, Tammy Grimason, Anthony and Sabrina Gugino, Maggi Haigh, Stephen and Amyleigh Heiman, Marissa Lanteri, Kevin Garvy and Mariah McBride, Jack Nicklaus III, Brandon Rinker and Davida Packer, Joe Floyd and Nikki Peksa, John and Mimi Richards, Tyler and Lexi Richey, Cachi and Allegra Garcia-Valez, and Lauren Young.