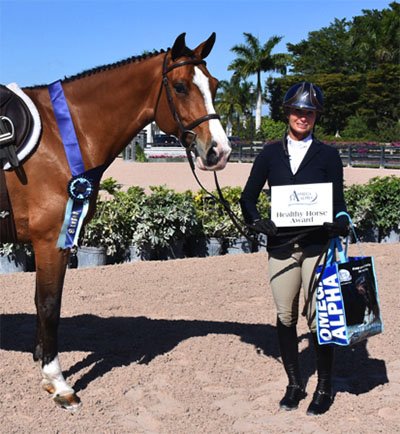 For Omega Alpha, holiday season means that it's time to give back to the community through sponsorship of the 2017 Equestrian Sport Productions Holiday Circuit, the 2018 Winter Equestrian Festival and the 2018 Adequan Global Dressage Festival.
As a leader in producing natural formulations for improving equine health and performance since 1992, Omega Alpha is enthusiastic to commend the health and happiness of equine athletes by sponsoring these internationally competitive hunter/jumper and dressage circuits.
During the six-week Equestrian Sport Productions Holiday Circuit show series for hunter/jumpers held at the Palm Beach International Equestrian Center, the Canadian-based company was the title sponsor of the $25,000 Omega Alpha Grand Prix. The winner, Fabio Da Costa, received a collection of Omega Alpha products and a custom Omega Alpha scrim. Da Costa is looking forward to competing two horses in the FEI classes throughout the Winter Equestrian Festival.
Omega Alpha will continue commending healthy horses throughout the winter season by awarding the Omega Alpha Healthy Horse Award at both the Winter Equestrian Festival and the Adequan Global Dressage Festival in Wellington. The recipients of this award will be horses that epitomize fitness, perform with vigor and radiate good health through hallmark indications, such as appropriate muscling, a healthy and shiny coat and a pleasant demeanor while performing. Winners of the Healthy Horse Award will receive a commemorative neck ribbon, an embroidered fly scrim, a baseball cap and an assortment of Omega Alpha supplements to benefit them during the winter circuit and beyond.
In addition to rewarding healthy horses and their owners, Omega Alpha is excited to acknowledge barn managers who provide top-notch care and nutrition to keep their clients' horses in peak form. The Barn Manager Contest is open to all barn managers at both the Winter Equestrian Festival and the Adequan Global Dressage Festival. To nominate a hard-working barn manager, look for the ballot boxes at the show grounds and at tack stores that carry Omega Alpha products, or complete the online nomination form at www.omegalphacontest.com once the winter circuit has started.
Omega Alpha is happy to support the equestrian community through the Omega Alpha Healthy Horse Award and the Best Barn Manager Award, and their continued sponsorship of these iconic shows.
Based in Toronto, Canada, Omega Alpha has been developing natural equine products through research-based science for more than two decades, specializing in natural formulations to enhance equine health and performance. To learn more about Omega Alpha's unique range of award-winning equine products, visit www.omegaalpha.ca or call (800) 651-3172.