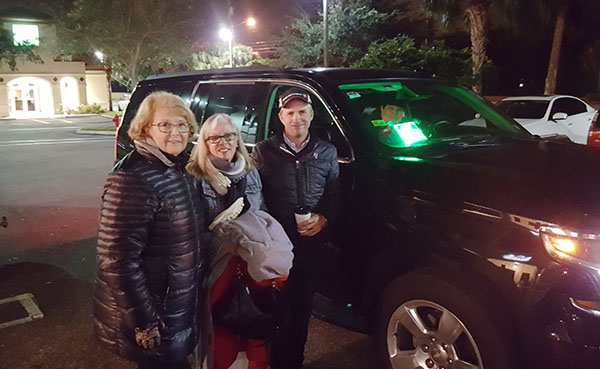 By Betsy LaBelle
Get Home Safe is a free car service aimed at creating a safer atmosphere for Wellington's sizable Sunday night equestrian party crowd.
Sunday night is the traditional party night for equestrians, since Monday is the traditional day off for the horses. Wellington's Sunday night scene includes hundreds of young adults, mostly in their 20s and 30s, packed into a handful of local venues.
A typical evening often starts at the Grille on South Shore Blvd. in the Mizner Place plaza. Partiers dance to a heavy beat of the music and enjoy the evening, with small groups often spilling out onto the terrace as the place fills to capacity.
On Sunday, Jan. 14, starting just before 11 p.m., two big, 12-seat Chevrolet Suburbans, and one mid-size SUV, lined up just outside the Grille, along with the evening's talented "celebrity bouncers" — hunter-jumper trainers Bobbie Reber, Nancy Ciesluk and Scott Walker. During the day, they train top riders. Last Sunday night, their job was to keep people safe.
The bouncers encouraged all leaving the club to take a free ride and not to drive themselves. The sole purpose of the service is to discourage partiers who have done any drinking from getting into their own cars, even if they think they are OK to drive.
For a tight-knit community that has seen more than its share of tragedy, it's a real community effort to offer the service, led by Tom Wright, a trainer and owner-operator at Uphill Farm. He works Get Home Safe into his busy weekly schedule, connecting with all those who can help fund the service for each Sunday night.
Aside from coordinating the funding logistics, Wright also lines up the equestrian celebrity bouncers. "If we've saved one life, then it's worth it all," Wright said.
In his third winter season of coordinating the service, he notes that if commercial ride-sharing services Uber or Lyft would stand by and wait for the crowd and offer a shuttle service, then the group would jump in the waiting cars. If they have to wait, they tend to jump into their own cars, because they all live close by, or they want to go the short distance to the next club. That's when some make bad decisions.
"If Wellington were walkable, it would be easy," Reber said. "Since it's not, this service is essential. I like to arrive at around 11 p.m. and watch them as they go in, and then I kind of know who's here. This is my second time being a celebrity bouncer this year. I don't mind doing it. I also used to come here when I was younger."
A well-respected Canadian judge and a hunter/jumper trainer for many years, she is well-known as a huge influence mentoring many world-class show jumpers as junior riders, coaching them up the levels, including Italian international Grand Prix rider Lorenzo de Luca.
Just then, a young woman came out of the Grille and hugged her. "She just won a class this week at WEF, and she is here celebrating with a friend," Reber explained. "This really is a great place to be able to come to say congratulations on a great week."
While the venues have changed through the years, Wellington's equestrian community has always had a handful of party locations where riders head after a tough week of competition at the Winter Equestrian Festival, the Adequan Global Dressage Festival or the International Polo Club Palm Beach. The clubs allow them to blow off some steam, and it's usually all good fun.
The area in front of the Grille was quite a party scene last Sunday night, with the club-goers enjoying often hilarious, good-hearted interaction with the celebrity bouncers, with Grille owner Juan Gando, and also with the drivers.
The Sunday party night starts at around 10:30 p.m. at the Grille, and then often moves in a big wave later in the evening down the block to Suri West at the old Players Club location. Get Home Safe focuses on those two waves — first running between the Grille and Suri West between midnight and 1 a.m., and then making sure they get home at night's end, from 2 to 3:30 a.m.
Frank Broglio, a driver for the service, takes his responsibility very seriously. He is also impressed with how strict the club has become, particularly with underage drinking.
"They are arm-banding everyone after they check their IDs, and nobody is even allowed to enter the club without an armband. There is no use coming to the club if you do not have the correct ID," Broglio said. "It's too dark in there for the staff to know if a person is underage."
He also thinks the clubs are better staffed this season. "I have seen them hiring more people for Sunday nights this season," Broglio added. "There are more security-type people and ones who know how to ID."
Saturday night is not the biggest party night for Wellington riders.
"Basically, Saturday nights are smaller because it is the dinner crowd, not the party crowd," Broglio said. "Sunday night is the all-out, blow-off-steam crowd, because Mondays are their day off."
During the wave of people leaving, as each group came out, Reber would ask them how they were getting home. Half of them had ordered an Uber, and the other half were heavily encouraged to use the Get Home Safe car service. One could not miss the concern of the bouncers as they interacted with the young adults. Almost everyone who came out of the club acknowledged the celebrities, often with hugs.
Celebrity bouncer Walker is also a well-known trainer of horses and riders.
"These kids are from all over the world," he said. "A lot of these young people are FEI riders, members of the international federation for the entire sport. Hard drugs usually do not apply here, because if they were tested, they would lose the chance to represent their countries in upcoming championships, like the World Equestrian Games. Now is the qualifying period for them. These kids work hard six days a week, day in and day out. We see them out there. We know them."
When interacting with every person leaving the establishment, not every conversation is pleasant.
"Sometimes, you have to be a little bit tough," Reber said. "Ask them how they are leaving, and if they say they are driving, encourage them to use the service. It's important to have a discussion with them and let them know not to drive. Most of the young adults are very responsible and are already using Uber, though some of them will use the service. As long as we know they are getting in a safe car and not their car, we are happy."
Since three cars were working the entire night, last Sunday's car service sponsors included Juan Gando of the Grille, Iron Spring Farm, Peter Pletcher and Ellen Weaver. Driver Frank Broglio can be reached at (561) 723-9267, and Tom Wright does much of the organizing on Facebook. Meanwhile, dressage star Robert Dover has taken on the leadership in coordinating sponsorships and celebrity bouncers for one Get Home Safe driver on Saturday nights.