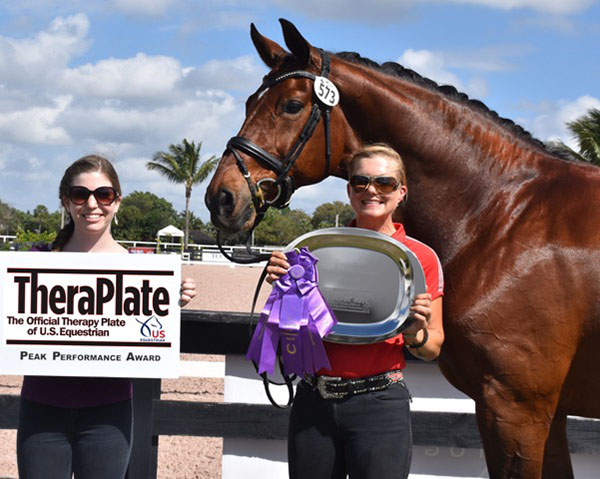 TheraPlate recently announced its support and sponsorship of the Gold Coast Dressage Association for the 2018 season.
As dressage riders from around the world come to Florida this season, the many benefits of TheraPlate will be available to help their horses have their best performances. TheraPlate is a therapy platform that uses dynamic movement to improve fitness, help relieve the causes of pain, and foster healing in horses, humans and other animals.
"First, the TheraPlate maximizes performance — including recovery from the stresses of high-level competition," TheraPlate owner and founder Chip Kreiling said. "Next, it allows horses to return to competition sooner after injuries by reducing healing time. Finally, it reduces the chances of the horse becoming injured as the muscular and connected ligaments and tendons become more fit, as fit horses are far less likely to become injured."
TheraPlate's platforms gently and rapidly help users reach ideal body conditions, with zero impact.
"Our company is in the business of helping horses heal," Kreiling said. "The success of our customers' horses speaks for itself as to how valuable a TheraPlate can be."
Not only do horses get a multitude of benefits from TheraPlate — people can also use the technology themselves for a variety of ailments from foot, leg and back pain management, to osteoporosis, fibromyalgia, and Parkinson's disease.
By becoming a Gold Coast Dressage Association sponsor, TheraPlate's goal is to bring awareness of the benefits of the TheraPlate to as many dressage horses and riders in the United States, Kreiling explained.
The Texas-based company feels that the country's best horses should not be without the best technology for therapy, body conditioning, healing and injury prevention.
For more information, visit www.theraplate.com, call (800) 920-3685 or e-mail theraplate@gmail.com.