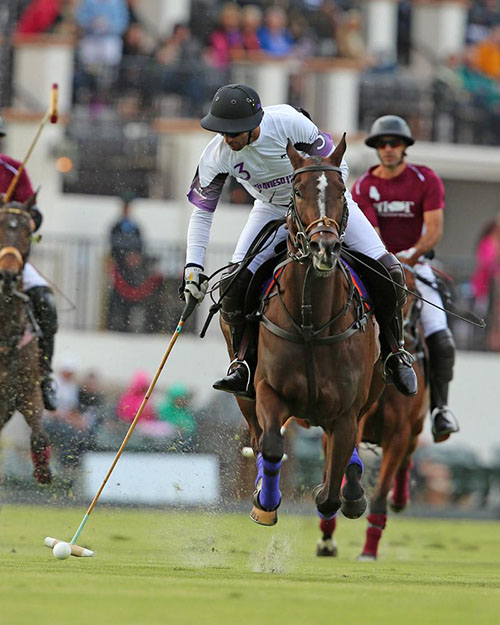 Nine-goaler Sebastian Merlos scored an incredible nine goals for Travieso as the team held off Pilot 13-11 in a 20-goal Joe Barry Memorial Cup action on Sunday, Jan. 7 at the International Polo Club Palm Beach. It was the tournament debut for both teams this winter.
Travieso led the entire game, which broke for halftime at a score of 7-3, after Merlos punched in three consecutive goals, two on breakaways, before executing a 30-yard penalty shot with 47 seconds remaining.
The Ecuador-based Travieso extended its lead to six goals twice in the fourth chukker, before Pilot mounted a comeback, which led to a close finish by the end of the sixth. "I'm happy about it," Merlos said. "This is a brand-new team, and it turned out really well."
Pilot 10-goaler Facundo Pieres, considered one of the best polo players in the world, converted five penalty shots before his brother Gonzalito Pieres added another goal to cut the margin to 11-10 with 3:03 left in the game. Merlos countered with a 60-yard penalty conversion with 2:24 left to give Travieso a two-goal advantage.
Facundo Pieres' 60-yard penalty shot with 1:39 remaining sliced the lead to 12-11, but Pilot could not get a shot off from the ensuing throw-in as Merlos stole the ball and powered down the field to clinch the victory with a nearside goal as the clock slowly ticked away with 28 seconds left.
"It was a tough game and not the way we planned," Facundo Pieres said, noting the early deficit. "It was difficult for us to come back."
Tomas Garcia del Rio added two goals while Tony Calle and Teo Calle added one goal each for Travieso.
"It was very exciting," said Tony Calle, who played well defensively against the Pieres brothers. "We didn't think it was going to be easy. My mission was to take them out of the play or delay them as long as I could."
Facundo Pieres led Pilot with seven goals, while Gonzalito Pieres added three goals and Timmy Dutta scored one goal.
The players were happy with the new field conditions, featuring TifTuf Bermuda grass that was installed over the summer. The innovative grass turf is the first of its kind for high-goal polo and requires less water and fertilizer to withstand the demands of play.
"The field was unbelievable," Tony Calle said. "The ball doesn't bounce, and it was good footing."
"It was a good move," Merlos added.
"The grass looks better and is much better to play on," Facundo Pieres said.
Earlier on Sunday, La Indiana scored four unanswered goals in the fifth chukker with goals from each of its players — Michael Bickford, Toro Ruiz, Jeff Hall and Facundo Obregon — en route to a 10-7 victory over Coca-Cola.
Hall finished with a team-high five goals, while Ruiz and Obregon added two each and Bickford scored one for La Indiana. Julio Arellano led Coca-Cola with five goals, while Sugar Erskine and Steve Krueger scored one goal each.
The Joe Barry Memorial Cup tournament was founded in 2005 in honor of the Hall of Famer, who passed away in 2002. Inducted in the in Hall of Fame in 1999, Barry won six U.S. Open Polo Championships, three USPA Gold Cup tournaments and the 1971 Coronation Cup in England.
The Joe Barry Memorial Cup tournament continues this weekend at IPC. For more info., visit www.internationalpoloclub.com.