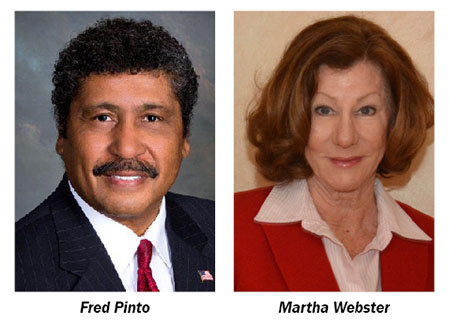 Voters in Royal Palm Beach will see two contested elections on the Tuesday, March 13 municipal election ballot.
The race for mayor will be a repeat of the 2016 election, featuring incumbent Mayor Fred Pinto against former Councilwoman Martha Webster. Pinto, then a councilman, defeated Webster two years ago to claim the gavel.
In the race for Group 3, incumbent Councilwoman Selena Smith is challenged by Sam Roman, who announced his intention to seek the seat last year.
There will not be an election in the race for Group 1, where incumbent Councilman Jeff Hmara was the only person to qualify for the ballot and won by default.
"I'll be able to do those things that I said I was interested in completing," Hmara said. "It always takes time and energy to run a campaign, so the thought that I'll be able to put that time and energy into actually doing the work that I've got laid out is very appealing."
He hopes the lack of a challenger means that the residents approve of the job he has been doing.
"I'd like to think that a lot of people believe that I've done a very good job," Hmara said. "I hope that it was intended that way. I certainly take it as an opportunity to continue to do those things that make a difference."
Hmara thanked the people of Royal Palm Beach for allowing him to serve. "I look forward to working with all of them, for all of them, and also with the staff," he said.
He also thanked his wife, Carolyn. "Without her encouragement and confidence through times that might have been a challenge, there is no way that I would've hung in there and been able to continue to be a councilman in Royal Palm Beach," Hmara said.
Webster, who is running in her third mayoral election after two unsuccessful attempts in 2014 and 2016, hopes to return the village to the family values she feels it has strayed from in the past two years.
"I've always firmly believed that the mayor's seat is not a starter seat and that someone who makes the decision to run for mayor should be somebody who brings with them some experience," Webster said. "The five years I had [on the council] is very strong experience, so I am running for the mayor's seat because I feel I am ready for that seat, and the village is ready for me to fill that seat."
She called attention to crime issues in the community.
"We are not getting solutions to these problems," Webster said. "It would be my top priority to work with our county commissioner, our new major, [Palm Beach County Sheriff's Office] Major [Eric] Coleman and with our PBSO to really take a look at how we can address these issues better and how we can get some solutions to some of the problems that seem to be plaguing us. I think that is my top priority."
Webster wants to provide leadership in the village that she thinks can't be found on the current council.
"I mean work together with all the entities that are involved in the issues that we have," she said. "That means working more broadly with the county. We have to remember that our firefighters and our police are county entities, and I think we need broader input into some of the problems that all of our communities are facing."
Webster identified the opioid crisis as a foundational problem that needs to be addressed.
"One of those things is bringing the safety back. One of those things is recognizing our seniors and working for them, as well as our youth," Webster said. "I think that those are things that we all work on, but we need to reach out a little harder, perhaps do something more for our veterans. These are all things that we need to work on together."
Webster said that the mayor's role is to provide a face to the village's leadership.
"I do bring a lot of experience," she said. "I think I bring what's needed at a time that needs new leadership."
Pinto said he looks forward to the campaign and to securing a second term as mayor.
"I'll continue to campaign and continue to stay in a position of leadership of this town and keep us on the right track going forward," he said.
Pinto said he is proud of the work that he and the council have accomplished during his first term as mayor.
"We've done a tremendous amount of work the past few years. We've done a lot of new updates and new ordinances and rules on the books to strengthen the community and keep us ahead of the curve," Pinto said. "We're in a very good position."
Pinto said he wants to continue to keep politics out of his and the council's decision-making in order to make the best decisions for the citizens in the village.
"The citizens in this village make a decision on who sits on our council and who sits in the seat that I'm in, and I have confidence that they have confidence in me," Pinto said. "I have demonstrated my abilities and good leadership for almost 14 years now as a member of the council and the last two as mayor."
Pinto believes his many years of experience continue to be an asset to the village.
"We worked well together last year, and I look forward to working together going forward in the years to come," Pinto said. "I'm looking forward to a positive election and continuing to provide leadership to this wonderful community we have."
Incumbent Smith believes that she is in a strong position to win re-election to a second term in the Group 3 seat. "I have several items I would like to tackle, one of them being continuing with our senior needs," Smith said. "We did very well working with our residents and local businesses in order to get a good understanding of what is available out there, and I look forward to establishing the next steps to make sure that we fulfill our commitment to the residents."
Smith said it is a careful process getting to learn the foundation of the way a village operates. With her two years of experience on the council, she hopes to continue to strengthen relationships and accomplish her goals.
"I'm very aware of my abilities and focus on my topics of interest and how they can benefit the residents," Smith said. "Another topic that I'm very passionate about are our local businesses. We started the process with e-permitting so that it was an easier process for businesses to go through the permitting process via our website to make it more convenient for them."
Smith is thankful for the opportunity to be elected by the residents two years ago and hopes to earn another two years to represent them on the council.
"I appreciate the opportunity that I've been given to serve the residents over the past two years," Smith said. "I look forward to serving them and earning their vote again for another two years. Another thing that I would like to make sure that I'm part of is the growth that is going to continue in the village."
Roman, Smith's challenger, wants to be a new voice for the community.
"I feel like the community has been neglected in many ways when it comes to issues and concerns that it has," he said. "Ensuring transparency, accountability and integrity within our local village government. I also support the inspector general. I believe that is very important."
Roman's experience as a businessman and entrepreneur, active person in the community and experience as a U.S. Navy veteran are all roles he said he can apply to work on the council.
"Overall, those are high qualities that are needed when you are a council member," Roman said. "Those are experiences that go toward making a good council person, making those decisions because those are decisions that will affect our community."
Roman said it is important to make decisions that are in the best interest of the residents.
"I want to make sure that we are also investing in recreation programs for our youth," he said. "I want to make sure that we keep our taxes low. What's very important is to make sure the penny sales tax money goes to the much-needed infrastructure that is needed in Royal Palm Beach, like repaving the roads, dredging of the canals, etc."
Roman looks forward to earning the trust and votes of Royal Palm Beach residents.
"I look forward to serving the residents of Royal Palm Beach," he said. "Elected officials are employed by the community."
The Town-Crier will host a televised candidates forum on Monday, Feb. 26 at 7 p.m. in the Village Meeting Hall.