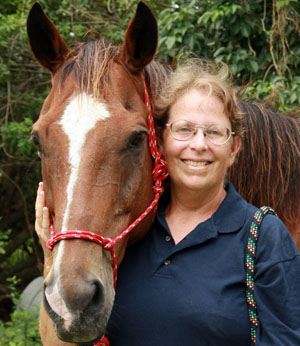 TALES FROM THE TRAILS
The smiles say it all. Eight lucky special education students get to spend two hours every Tuesday morning riding at the Vinceremos Therapeutic Riding Center. The brainchild of Okeeheelee Middle School teacher Brooke Franzman and Vinceremos Program Coordinator Susan Guinan, the collaboration began several months ago.
"We've always had a special relationship with Okeeheelee Middle School," Guinan said. "Sarah Menor, daughter of Vinceremos' founder Ruth Menor, teaches there. Principal Dr. David Samore is also wonderfully supportive. He's open to diverse programs and outside-the-box ideas."
Guinan said that Vinceremos ran a similar program with the Boys & Girls Clubs in Wellington and Belle Glade over the past two summers. Coordinating with Okeeheelee is the model for working with schools.
"One of our main concerns is funding," she said. "We want the program to be self-sustaining. Our goal is to eventually offer this program to every middle school in Palm Beach County. There are many special programs for able-bodied children, and not as many for children with special needs. This is a unique way to combine recreational, educational and sports components into a single program."
The program also meets specific state educational standards. "When they're working around the horses or riding, the children are totally engaged, and also enjoying themselves," Guinan said. "Just think — would you rather hold a pencil to solve math problems, or buckle a throat latch on a bridle while building a relationship with a horse?"
Guinan explained that the teacher chooses which students participate, then she and her aides bring the class to the barn each week and stay to assist. Some of the time is spent in the barn, grooming, bathing the horses, or tacking up, and some is spent riding.
"It's amazing to see the kids' confidence soar when they're riding," Guinan said. "One child, who was always nonverbal, said his first words when he was riding: 'me happy.' We use appropriate activities to make a real difference in their lives, building self-confidence, self-esteem and social skills. These skills also translate to real-world situations."
Many of the kids have never had the opportunity to ride a horse before. "It's an extraordinary experience. Some children with disabilities become like shut-ins, because of the limited opportunities to participate in social or recreational activities," Guinan said. "Here, everyone's equal, and everyone participates equally. They bring along their lunches, and during the break, we share iPad videos of them riding. It reinforces what they've accomplished. They're all stars. Personally, I enjoy watching them blossom, seeing them accomplish things they've never dreamed of doing. This class is the highlight of each week for us here at Vinceremos. The program has had a huge impact on us, as well as them."
Sarah Menor, the exceptional student educational coordinator at Okeeheelee Middle School, is thrilled to accompany the group on its weekly trip to the barn.
"Ms. Franzman is one of my favorite teachers," she said. "She fell in love with Vinceremos when she attended a program here last year. She created this life-skills-based program for her students, meeting many of the state educational benchmarks."
Some of those benchmarks for independent functioning include carrying out and completing a task, participating in group and individual activities, following rules and procedures, and adjusting to changes and new routines.
"We're really lucky that we have a supportive principal who encourages us to do this," Franzman said. "The impact on the kids — oh, my gosh! Watching them come alive when they're riding warms my heart. I watch them change from apprehension to genuine smiles. One of my students wants to volunteer here. Sharing in their success is one of the best things for me as a teacher. It's so cool to watch them become relaxed and acquire new skills while being totally enthralled."
There are other added benefits.
"After every outing, they get to be reporters on the school news show, including video clips of what they're accomplished," she said. "It's another great way for them to be truly integrated members of the school community. We're looking forward to some of them having the opportunity to compete in the Special Olympics this winter. This whole program has just had a huge impact on all of us."
The kids enjoy their time at Vinceremos. One of them, Subentz, was apprehensive when they first started coming out. The sheer size of the horses was daunting.
"But now I'm having a fun time," he said. "I like riding a horse, especially Zoe. After I saw it wasn't hard, I asked to ride the biggest horse. I feel happy when I'm up on her. She always listens to me. I like looking down on everyone. So far, we've walked, done the bumpy trot and the obstacle course. I can even tack her up on my own."
For more information about Vinceremos, call (561) 792-9900 or visit www.vinceremos.org.