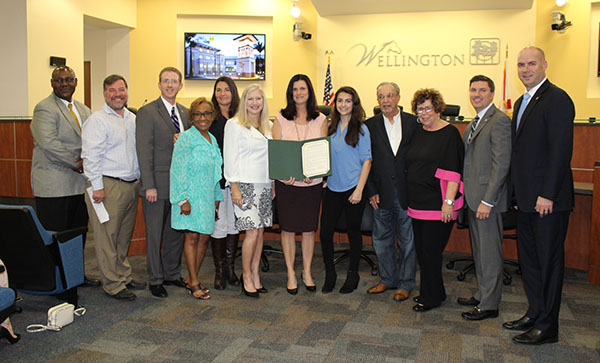 The Wellington Village Council on Tuesday gave consent to pay for outside counsel services regarding legal action with the Florida League of Cities.
The Florida Municipal Insurance Trust, an entity of the Florida League of Cities, denied claims involving the village. Village Attorney Laurie Cohen and attorney Robert Friedman, an insurance lawyer based in Jupiter, believe that the village is owed monies under claims that were improperly denied.
The council agreed on a phased contingency plan to pay for Friedman's services.
"If we file a lawsuit and, ultimately, we settle or prevail, we would be entitled to the award of not only the defense costs that were expended, but our attorney's fees as well," Cohen said. "As you know, his rates are high, and those fees can mount up pretty quickly."
The maximum amount the village might recover is more than $608,000.
Friedman provides services at a rate of $475 an hour, and Cohen said after further discussion, they came up with other options regarding the lawsuit the village would bring against the Florida Municipal Insurance Trust.
One option Cohen shared was paying 50 percent of Friedman's hourly rate along with 20 percent of every recovery, or 22.5 percent if the matters are ultimately appealed.
"The third thing we talked about was a phase contingency, where prior to suit, the recovery would be 15 percent," Cohen said. "Prior to discovery, it would be 20 percent. Prior to summary judgment, it would be 25 percent, and then post-summary judgment before trial would be 40 percent."
No matter what the council chose, the payout to Friedman is based on how much time is needed to settle the claim, win or lose.
Councilman Michael Drahos shared his main concern.
"My only hesitancy is the 15 percent," Drahos said. "If he settles two weeks from now, he has basically done very little and recouped quite a bit."
Cohen agreed, but said it will be unknown how much time is spent, regardless of the payment choice.
Ultimately, the council members agreed that the phased contingency would be the most appropriate form of payment. Vice Mayor John McGovern said he thought it was the safest way to go about hiring Friedman.
"Having Mr. Friedman have his payment be sort of contingent in this entire litigation with us, I think is a good thing," McGovern said. "It means that our residents pay nothing to recover money that they have already paid."
McGovern did not like the 20 percent discovery provision.
"I'm very much in favor of this phased contingency, but I would want it to be at this 15, 25 and 40 [percent], and delete this pre-discovery line, because I don't know what that is," McGovern said.
Councilman Michael Napoleone was not as concerned and said he thought that with the actions taken, they may be able to negotiate before reaching discovery.
"Often times, once you file a suit, people take it a lot more seriously," Napoleone said. "I think that the filing of the lawsuit is going to get us into perhaps more intended negotiations to try to resolve it. And then we're going to get into discovery. We may have a motion to dismiss before discovery. I would recommend that we don't serve discovery until we get through a motion to dismiss, so we don't elevate to that next tier."
Cohen confirmed with the council that Friedman would log his time in order to monitor the hours he puts into the case.
"The fact that his rate is high. There are 10 claims. We don't know exactly how much time will be expended," Cohen said. "I think it will be the best-case scenario for us, and it doesn't place our taxpayers at an additional risk of losing money, which they've already paid, and could yield a recovery for them that we wouldn't have otherwise had."
The council members gave their consent for Cohen to agree to the phased contingency with Friedman, without the need for a motion of approval.
Mayor Anne Gerwig recused herself from the discussion due to her affiliation with the Florida Municipal Insurance Trust.
In other business:
• The council approved the final reading of a comprehensive plan amendment for the Village Green Center at the northwest corner of State Road 7 and Stribling Way. The amendment allows for previous commercial property to be designated for medical use, reducing the maximum allowable square footage of the project. Tacked onto that was a resolution to allow an additional fast-food restaurant, specifically a Starbucks, allowing a maximum of four fast-food restaurants with drive-throughs in the shopping center.
• The council approved the seasonal permit for the Grand Champions Polo Club's 2018 winter/spring polo season at 13444 Southfields Road for polo events from Feb. 1 through May 29.
• During presentations, Wellington resident Terri Priore was recognized by the council and the village for being named "Adult Volunteer of the Year" by the School District of Palm Beach County. Priore will go on to be considered for adult volunteer of the year at the state level.
• Palm Beach County Sheriff's Office Capt. Rolando Silva gave the council a presentation on the current results on Operation Wild Stallion, the PBSO's effort to limit DUIs and underage drinking in Wellington. In its eighth week of implementation, Silva said that the PBSO has made 28 DUI arrests since Dec. 1, more than a thousand traffic stops, covert operations and four arrests related to underage drinking.