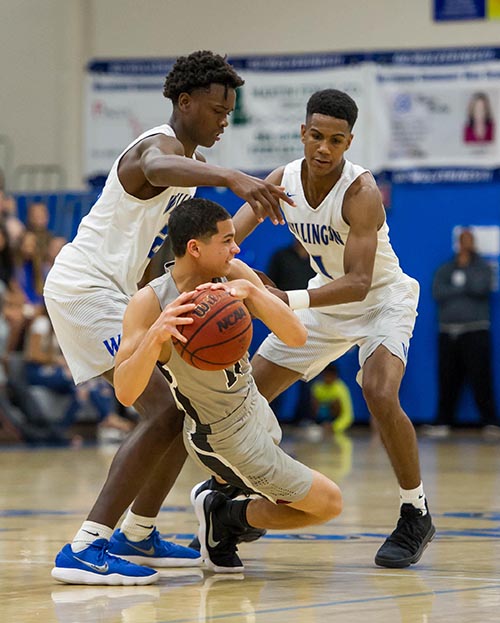 The Wellington High School boys basketball team hosted district rival Palm Beach Central High School on Friday, Jan. 12 and defeated the Broncos 75-55 to remain unbeaten.
The win propelled the Wolverines to 16-0 on the season, and the squad has matched the team's best start since the 2015 state championship season. If the team continues the streak, it will again make history, marking the best start in school history.
"I'm just so proud of them," Wellington coach Matt Colin said. "Nobody would have expected it from this group of kids, but I'm so proud of the fact they put themselves in a position to achieve such an amazing accomplishment."
The rival match-up never disappoints and is always a battle. However, it marks the sixth-straight year that the Wolverines have defeated the Broncos. Wellington controlled the tempo early and led 19-8 at the end of the first period. Palm Beach Central fought back, closing the margin on occasion, but the Wolverines continued to use speed and ball control to carry a 38-25 lead into halftime.
The Broncos came out in the second half blazing, trading three-point baskets with Wellington for the first scores of the third period. However, the Wolverines continued to scoop up the rebounds and finish around the rim throughout the second half. Their momentum made it difficult for the Broncos to chip away at their lead. "We really put the ball in the basket tonight," Colin said.
By the end of the third period, the Wolverines had a 60-36 advantage. The Broncos had a bit of a resurgence early in the fourth period, forcing Wellington to call a timeout, but Wellington was able to maintain a 22-point lead late into the game. The Wolverines closed out the contest winning by 20 points.
The victory placed Wellington in the top position in the district.
Texan Moulton had a team high of 19 points, and Bryan Williams and Jonathan Philistin each had 16 points. Williams also accounted for two three-point baskets.
For Palm Beach Central, Tre Jackson put up 10 points and had two three-pointers. Gyvicht Geneus also had 10 points on the night for the Broncos. Palm Beach Central had a total of five three-point baskets. The Broncos fell to 10-6 on the season, but they do remain in contention for post-season play.