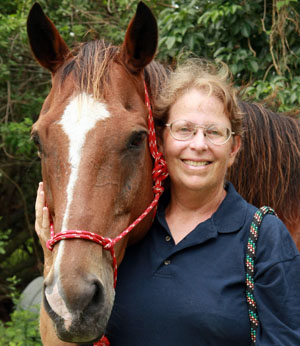 TALES FROM THE TRAILS
Exciting, educational and engrossing — but most of all, fun. Casperey Stables, located at 2330 D Road in Loxahatchee Groves, offered a nearly two-week Winter Holiday Horse Camp from Friday, Dec. 22 through Monday, Jan. 8 for children ages 7 to 14.
"It went really well," instructor Katherine Macdonald said. "We had a nice little group, and they clearly enjoyed the riding, as well as the crafts."
"Everyone had lots of fun," echoed instructor Fallyn Shepard. "This is my favorite place to work. I like the way they do things and how the kids are treated. The kids learn how to be real equestrians."
Fallyn said they learn all about riding and caring for horses.
"The kids are all super wonderful. I enjoy watching them learn," she said. "And they learn from each other, not just from me. It's a very open, social kind of atmosphere. One child may hear me correct something, and then realize they're doing the same thing and correct themselves. Also, these school horses are the best, just as safe and sweet as can be."
Casperey's overarching philosophy is that all people, especially kids, deserve the chance to grow in a healthy, nurturing environment. Horsemanship provides a unique opportunity to develop essential life management skills, such as responsibility, leadership, teamwork, compassionate assertiveness and self-reliance. These skills translate to real-world situations and provide nurturing and stimulating experiences.
Casperey held an earlier Thanksgiving Holiday Horse Camp and plans a Spring Horse Camp for March 19-26. The barn also regularly offers summer riding camp sessions, private and group riding lessons, boarding and a riding club, which is an affordable way for students to spend more time at the stable.
This option offers group or independent riding at a variety of skill levels in three age groups, with an unlimited variety of activities, guided by fun-loving, safety-conscious, experienced trainers. From horsemanship, basic riding and horse care, to mounted games, barrel racing, jumping and dressage, students practice and improve their skills. There are even Barn Dayz during teacher planning days.
Owner Lori Cooper watched over the Winter Holiday Horse Camp goings on with great satisfaction.
"It was really super," she said. "We had eight to 10 children each day, and they enjoyed all sorts of riding and horse-related activities. They all rode in a traditional lesson each morning, then tried a different form of riding, like vaulting or cavaletti. In the afternoon, there were horseback games. In between there were horse-themed crafts, educational activities, such as barn management skills like learning how to wrap legs, bathe horses, clean tack and muck out stalls. It's a pretty full day."
The crafts combine horse and holiday themes. So, for example, the kids may decorate the horses to look like ornaments, taking into account cultural differences. They also made picture frames for New Year's, which ultimately held snapshots of them riding their horses. The games were similarly organized. One relay race had two teams riding back and forth across the arena with ornaments hung on a horse.
"We have 16 awesome, wonderful, patient horses," Lori said. "Casperey is 10 acres of a park-like, relaxed barn with great people and a friendly atmosphere. We're drama-free and supportive of everyone's riding level and style. We stress courtesy, consideration and common sense."
Lori has been running Casperey for more than 30 years and offering camp programs for more than 20.
"I love working with children, watching the bulbs go off as they learn all the ins and outs of being around horses, experience that special interaction, and develop a lifelong love for horses, whether they plan to continue on with showing or just want to ride for personal pleasure," she said. "At the camps, we help children become better, more effective riders, which translates into become better at communicating."
She feels that this carries over into many other real-world situations.
"We're in the business of providing riders of all ages and abilities with a stress-free, wholesome, safe and positive environment where they can relax and enjoy their leisure time," Lori said. "We try, always, to bring out the best in people, helping them grow, and fostering a way to become stronger, more self-reliant, competent and confident in not only their riding abilities, but in other areas of their lives."
While one group of campers rode, another sat with an instructor for a horse talk session, which included information such as how to read a horse's expressions and body language. Working with a printed handout, the children discussed the difference between being tense and nervous, and how to stay calm around horses while keeping the horses relaxed.
Chiara Timmers, 11, attended the Winter Holiday Horse Camp. She and her family were visiting the Wellington area from their home in Maryland, where she rides. "This is very unique and interesting," she said. "I like it a lot. They help me understand how to do lots of things I didn't know before."
Skyler Casson, 10, rides at Casperey on a regular basis. She enjoyed the camp. "It's really nice," she said. "I want to keep coming back."
For more info., call (561) 792-4990 or visit www.caspereystables.com.