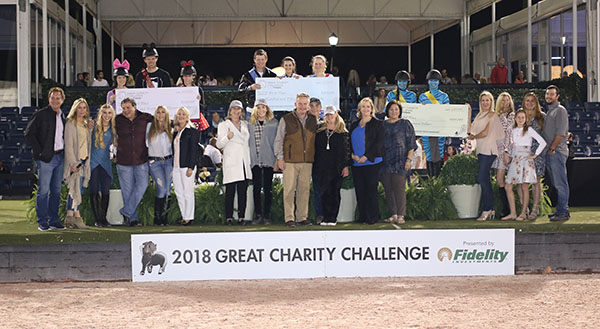 On Saturday, Feb. 3, thousands cheered as the Great Charity Challenge, presented by Fidelity Investments, distributed $1.5 million to local nonprofit organizations at the Palm Beach International Equestrian Center.
The GCC has become a highlight of the 12-week Winter Equestrian Festival and has distributed in excess of $12.2 million to more than 220 local organizations in nine years.
The GCC is an exciting show jumping event that brings hope to dozens of Palm Beach County charities every year. This year's theme, "A Night When Everyone's a Star," highlighted the many perspectives that stardom can feature, from the hundreds of nonprofit representatives and volunteers, to the event sponsors and the riders, dressed as their favorite movie characters.
All 12 Wellington public schools joined in the festivities by participating in a Chalk Art Festival inspiring others to give.
The winning team of riders were Shane Sweetnam, Lindsey Tomeu and Chloe White, sponsored by Spy Coast Farm/Lisa Lourie and Monica Preston, and corporate sponsor Dever Golf Cars. They came in the ring dressed as characters from the movie Grease. Their teamwork and sportsmanship paid off for the Education Foundation of Palm Beach County, a nonprofit organization that facilitates student achievement, earning the top prize of $150,000. The sliding scale for the balance of the proceeds gave all participating nonprofits a minimum of $15,000, ensuring that everyone was a winner.
The three riders made up the top team of the night out of 29 pro-am combinations, paired with randomly selected Palm Beach County charities. Each team was made up of junior and amateur riders competing side-by-side with top professionals.
"The Education Foundation serves the nation's 10th-largest school district. There are 200,000 children in this district," said James Gavrilos, president and CEO of the Education Foundation. "With the funds that are donated tonight because of what you young people have done, we're going to change lives. We're going to educate kids… If we don't educate our children, prepare them for college, prepare them for life, what's going to happen for them? That's why it's so exciting to see this collaboration of people coming together to change the world, one kid at a time — or in our case, 200,000 kids at a time."
Sponsor Lisa Lourie was proud of her team's victory.
"Monica Preston and I really enjoy doing this every year. We're very fortunate to have people who are so committed and make sure that they have really good horses," she said. "They really give it their all. But more importantly, of course, is the Education Foundation and the other charities that we've been able to assist. It's very special. Monica and I are both residents of this area. It means a lot for us to give back."
This was the third year in a row that the Spy Coast Farm/Preston team has won the GCC, including team riders Shane Sweetnam and Lindsey Tomeu. It was the first time competing for Chloe White. For winning the third year in a row, Lourie and Preston donated a $15,000 bonus to Meals on Wheels.
Sweetnam, who has ridden in the GCC every year, was captain of the winning team, riding Catch a Star HHS. He was joined by Tomeu on Gold Lux and White riding Miss Understood II. All three riders jumped clear over their courses and had the fastest combined time of the night.
"We thought we left the door open a little bit," Sweetnam said. "I had a younger horse, a little bit of change of dynamics to the team. So it wasn't as fast as last year, but everyone did a great job. We're here at the top again."
Tomeu, who was competing for the fifth time at the GCC, enjoyed the evening. "For me, it's a great experience every year. I love it," she said. "I love going fast. I was a little nervous, because I didn't have the same horse that I've had in past years, but she stepped up to the plate tonight."
GCC founder Paige Bellissimo said that the impact of this event is incredible.
"We've actually been measuring the impact, and last year alone, we touched more than 200,000 lives," she said. "That's the work that everyone is doing. It has been really special. I just want to say a big thank you to the sponsors, the riders and especially the charities."
Coming in second place was the team for Quantum House, sponsored by Pine Hollow and corporate sponsor the Shaughnessy family. The team consisted of Carly Dvorkin, Daisy Farish and David Blake, who earned $125,000 for their charity.
Stem HQ/TechGarage finished third and won $112,500. The team was made up of Gia Rinaldi, Kennedy McCauley and Haylie Rolfe, sponsored by CP and corporate sponsor the Bainbridge Companies.
All of the riders had fun with this year's theme of "A Night When Everyone's A Star," with costumes ranging from Lord of the Rings and Avatar to Toy Story and Top Gun.
"All of us with Fidelity Investments here in Palm Beach County are delighted to be involved with the Winter Equestrian Festival and with the Great Charity Challenge, a wonderful event that helps so many charities in Palm Beach County," said Heath Odom, manager of Fidelity's Investor Center in Palm Beach Gardens.
Equestrian Sport Productions CEO Mark Bellissimo congratulated everyone on an exciting event.
"I just want to thank this team and the dedication of everyone for giving their time and energy," Bellissimo said. "This is a big gesture. The owner doesn't get the money and the rider doesn't get the money; the charity gets the money, and it will touch thousands of lives in the years to come."
Bellissimo said that he considers the GCC a lasting legacy of the Winter Equestrian Festival and the sponsors involved.
"This event was created to find heroes in the community, and I think we found some here," he said. "I can't think of a better group to pull it off. We are very grateful to everyone."
In addition to the competition, the evening featured several grants and donations, highlighting a grand total of 57 locally based nonprofit organizations.
For more information about the Great Charity Challenge, visit www.greatcharitychallenge.com.