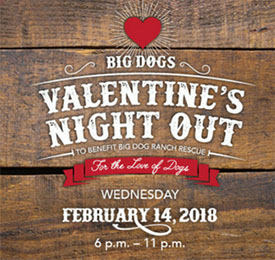 This Valentine's Day, Big Dog Ranch Rescue will present Big Dogs Valentine's Night Out, with all proceeds benefiting the largest cage-free shelter in the nation.
On Wednesday, Feb. 14, from 6 to 11 p.m., Wellington's Polo Bar & Grill will host the event, and the equestrian hotspot will transform into an idyllic Valentine's Day destination. For one night, the equestrian community will come together for a country-chic western-themed evening under the stars. The event features dinner, silent and live auctions, a night filled with dancing, and a private concert by Nashville country music sensation Randy Houser.
Tickets are selling out fast at $250 per person, and a limited number of table sponsorships remain. To purchase tickets, visit www.bdrr.org.
All event proceeds benefit Big Dog Ranch Rescue, the nation's largest cage-free, no-kill shelter. More than 23,000 dogs have been saved by the organization's work. BDRR is also a leader in the national animal welfare movement, through compassionate, innovative rescue practices and transformative educational programs.
"I hope you will join us for this special Valentine's Day celebration of love," BDRR President Lauree Simmons said. "Invite some of your friends, and experience not only an incredible evening, but the joy we feel everyday as we rescue our four-legged companions."
Big Dogs Valentine's Night Out will benefit the expansion and enhanced lifesaving services provided at the nonprofit's all-new state-of-the-art veterinary healing center, as well as continue to support its ongoing mission of rescuing, rehabilitating and rehoming as many dogs as humanly possible. During the past year alone, BDRR has rescued more than 3,000 surviving puppies and dogs from the hurricanes in Houston, the Florida Keys and Puerto Rico.
Country music star Kenny Chesney stepped up to work with BDRR in the wake of the hurricanes, helping to rescue 100 dogs along with Victory Air. His dedication to BDRR did not end with that lifesaving mission, and it was upon his recommendation that Houser stepped forward for an exclusive concert to be held during Valentine's Night Out.
In between his New York and Texas events, Houser will fly to West Palm Beach for a one-night appearance, to perform specifically for the love of dogs. The country singer/songwriter who broke out as a co-writer for the popular song "Honky Tonk Badonkadonk" has since written and performed 12 Billboard songs, with "Boots On" topping his career at its peak in the second position on the charts.
Guests will also have the opportunity to bid on a meet-and-greet with Kenny Chesney at any one of his 60 tour date locations, a hot air balloon ride and a beautiful diamond bracelet, along with an array of top-of-the-line items in the silent auction.
The event will also feature a demonstration by Cobra, an American mustang who was destined for death, but was adopted from the wild, and has since reached the highest level of classical and western dressage ever for a wild horse.
"From its inception, our dream for Polo West and Polo Bar & Grill has been a community-centric golf and equestrian clubhouse to support important events and activities," Polo Bar & Grill owner Gary Fellers said. "To us, there is no more important organization and no more noble activity than saving the lives of the Big Dog Ranch Rescue dogs."
Fellow owner Jeanette Sassoon agreed. "Please join us in supporting this important cause, and we urge the community to make a donation if they cannot attend, as well as follow Big Dog Ranch Rescue's amazing journey," she said.
Polo Bar & Grill is located at 2470 Greenview Cove Drive. It is open 11 a.m. to 9 p.m., Monday through Thursday and 11 a.m. to 11 p.m., Friday through Sunday. For more information, visit www.polobarandgrill.com or call (561) 429-2049.