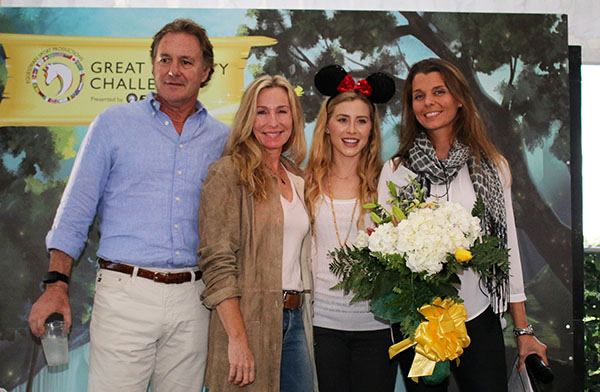 The ninth annual Great Charity Challenge, presented by Fidelity Investments, will be held Saturday, Feb. 3 starting at 6 p.m. at the Palm Beach International Equestrian Center as part of the Saturday Night Lights series at the Winter Equestrian Festival.
Organizers expect the Great Charity Challenge to be the community event of the year and invite all residents to participate.
"It's a night where everyone's a star," Executive Director Anne Caroline Valtin said. "Come meet the volunteers, board members and executive directors from local charities. You will meet outstanding individuals who are very passionate about making a difference and making people's lives better in Palm Beach County."
The event is free for general admission with free parking available at the Equestrian Village site at 13500 South Shore Blvd. with shuttle service to the main showgrounds.
"Join us for an amazing atmosphere with amazing individuals," Valtin said. "There are individuals from all walks of life who come together for this one night. You just feel so empowered by the people."
The huge community celebration centers around a show jumping competition where teams of costumed riders take to the course to win money for their designated charities.
To date, the Great Charity Challenge has distributed in excess of $10 million to more than 200 Palm Beach County charities — and after this weekend, an additional $1.5 million will be added to the total. The winning team will take $150,000 with the dozens of participating charities each receiving a portion of the money.
Included during the event are family-friendly activities, such as a petting zoo, Wellington school art activities, many on-site dining options and a beautiful carousel to ride and enjoy.
The event was founded in 2010 by Mark and Katherine Bellissimo of Wellington Equestrian Partners and their daughter Paige. Valtin noted that everyone involved in the event is proud of the work done by the Great Charity Challenge supporting hundreds of the great nonprofits in the community. In particular, getting the whole community involved in the effort.
"It is something our co-founder, Paige Bellissimo, really has worked passionately to do," Valtin said. "It doesn't mean sponsoring, it means volunteering and learning which of the organizations most interests you. They are all based right here and are doing outstanding work. The event is really about raising awareness for them."
Organizations benefiting from the Great Charity Challenge continue to serve and support the local community's growth and well-being. Their outreach and dedicated work spans many different sectors, including veteran aid, animal advocacy and rescue, foster care, senior citizen care and family support, to name just a few. For a full list of recipients and benefiting charities to date, visit www.greatcharitychallenge.com.
Many sponsors all come together for one amazing evening to make a difference in the community, blending philanthropy with equestrian sport, Valtin explained.
"It's such a feel-good evening and not to be missed," she said. "There is no more special place to be."
Even if you are not up on the equestrian activities, this one is a relay race that you will surely enjoy.
The Great Charity Challenge is an exciting pro-am relay that brings together equestrian families and companies as they sponsor teams for $25,000 and $10,000, respectively.
Each team is assigned to compete in representation of a selected charity, offering amateur riders the chance to compete side-by-side with their Olympic and world-class professional heroes and role models.
Additional donations from local families, businesses, sponsors, vendors, exhibitors and spectators, ranging from $500 to $50,000, are what make the event reach its fundraising goal of $1.5 million every year.
Charities chosen to compete in the 2018 Great Charity Challenge include: Achievement Centers for Children & Families, Alzheimer's Community Care, Back to Basics Inc., Big Dog Ranch Rescue, Boys & Girls Clubs of Palm Beach County, Busch Wildlife Sanctuary, Children's Home Society of Florida, Christopher Aguirre Memorial Foundation, Education Foundation of Palm Beach County, Elder Affairs Program/Catholic Charities, Families First of Palm Beach County, Florence Fuller Child Development Centers Inc., the Glades Initiative Inc., Gulfstream Goodwill, Hope 4 Mobility, Junior League of Boca Raton, Kids Cancer Foundation, Peggy Adams Animal Rescue League, Quantum House, Special Olympics of Palm Beach County, the Rotary Club of Wellington, the Soup Kitchen, Spirit of Giving, Stem HQ/TechGarage, Step by Step Foundation, Susan G. Komen South Florida, True Fast Outreach Ministries, Wellington Public School PTA/PTO/PTSA and the West Palm Beach Library Foundation.
All of the participating nonprofits undergo a thorough vetting process prior to their acceptance into the pool of applicants. From there, drawings are held to guarantee that everyone has a chance to participate.
Fund usage updates are provided for one full year post event to ensure that the money is used to support the community.
For additional information about the Great Charity Challenge, visit www.greatcharitychallenge.com or www.facebook.com/greatcharitychallenge.