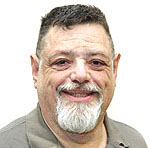 'I' ON CULTURE
Joe Wright's new film Darkest Hour is a look at one of the 20th century's greatest leaders, Winston Churchill, at the time of the greatest crisis of World War II. As British soldiers struggled off the European continent at Dunkirk, Churchill had to navigate political shoals almost as deadly.
Churchill (Gary Oldman) had been selected to be a wartime prime minister when it became clear that Neville Chamberlain's (Ronald Pickup) appeasement policy toward Hitler was a calamity. From the start, it is clear that he and his followers want nothing more than for Churchill to face disaster even if it means letting Hitler win. Things were bad, so bad that Lord Halifax (Stephen Dillane), a Conservative stalwart who had favored fighting Hitler, actually wanted to negotiate a possible peace treaty through the "good offices" of Benito Mussolini.
But Churchill hung on, using his powers of persuasion most effectively with the British people. Things were terrible, so threatening that even Churchill wondered how to go on. The British feared that they would lose 300,000 men at Dunkirk. The real backbone came from his wife Clementine Churchill (Kristin Scott Thomas), who told him: "You are strong because you are imperfect. You are wise because you have doubts. From this uncertainty the wisest words will come."
Anthony McCarten's great screenplay reflects this dichotomy. We see Churchill the inspiring leader and Churchill the intemperate man. Just as his wife talks about his strengths coming from his imperfections, the same is true of the screenplay. Churchill drank to excess and smoked constantly.
What truly carries this film is the incredible performance from Oldman. There have many top actors who have played this great leader, but Oldman manages the tightrope walk of keeping the flaws of a great man clear. Churchill was powerful because he was a superb user of the English language and had a wonderfully theatrical manner of speaking. Just as Franklin Roosevelt was able to calm Americans' fears through radio at the start of the Great Depression, Churchill was able to inspire the British in ways that almost no other politician ever has.
The supporting cast is exceptional, balancing out the different groups. Ben Mendelsohn's George VI is uptight and uncomfortable with Churchill at this time. Pickup and Dillane manage to present their ideas, which looking back seem awful, as reasonable. Thomas is very strong, although underutilized as his wife. I liked Lily James, who played the great man's secretary and had to suffer through his temper tantrums. Thinking back about the movie, I wonder if this was to have a kind of "regular person" around, one who the audience might identify with.
But it is Oldman who is front and center. He wears prosthetics to alter his features and clearly demonstrates Churchill's tics. We get to see him "warts and all." He was a great leader but greatly flawed.
When it comes time to speak to the British people, Churchill's own words are used (he was a journalist and a good historian), and Oldman really shines. Watching him deliver his great speeches, particularly his "Never Surrender" speech ("We shall fight on the beaches, we shall fight on the landing grounds, we shall fight in the fields and in the streets, we shall fight in the hills; we shall never surrender.") creates a shiver.
Too few of our leaders these days speak like this. They obfuscate and bore us, allowing our media commentators to describe or misdescribe what they say. Perhaps that is one reason so low a percentage of people come out to vote and take part in the political process.
But we see in this film a true giant. Yes, Churchill was flawed, but even his flaws were spectacular and harmful mainly to himself. I was struck by his lack of certainty even while taking important actions. I am not an expert on Churchill, so I don't know if this was exaggerated. I often wish that many of our leaders would reveal some of their uncertainties while giving enormous praise to themselves and their allies and disdain for their opposition.
The man was a giant, and this movie makes a strong companion to Dunkirk, where the problems faced by the politicians were simultaneously happening. The film is straightforward; there are no wildly explosive scenes, only the power of watching a great portrayal of one of the great leaders of the last century. I liked it a lot.