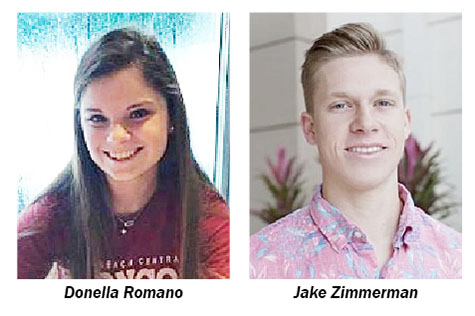 Two high school students from Wellington are among 10 students in Palm Beach County competing to raise the most money and be named Student of the Year by the Leukemia & Lymphoma Society.
Donella Romano, a junior at Palm Beach Central High School, and Jake Zimmerman, a senior at the King's Academy, started fundraising Jan. 18 for a seven-week campaign that goes through March 9. Every dollar they raise converts to one "vote," and after the seven weeks, whoever has the most votes is crowned Student of the Year by the LLS's Palm Beach area chapter.
This is the second year of the local student competition. Last year, 12 students competed and together raised more than $105,000. According to the area LLS organization, this year's group of 10 is on track to blaze past last year's total amount raised by the time the winner is crowned on March 9.
Each student puts together a team of friends and family who aid them during their many events during the campaign. The students also learn leadership skills as they lead their teams in fundraising.
To help support the two local students, or learn about the other participating students, visit www.tinyurl.com/soypb18. You can donate directly by clicking on their photos. You can also visit one of several special events planned by the students.
Romano lost her hero and best friend, her grandfather, to acute myeloid leukemia (AML) when she was 11 years old.
"Even though he is no longer with me, he is still my best friend, and I have worked to continue his legacy," Romano said. "I continue to raise awareness on this life-changing illness and raise money for charities and societies like the Leukemia & Lymphoma Society."
Her activities include a car wash on Saturday, Feb. 17, from 9 to 11 a.m. at Applebee's Neighborhood Grill & Bar in the River Bridge shopping plaza at 6706 Forest Hill Blvd. in Greenacres. On Sunday, Feb. 18, she will be asking for donations at the nearby Publix at River Bridge. She is working on setting up a skate night and several other car wash events before March 9. To contact her directly, e-mail donella2@icloud.com.
When Zimmerman was 3 years old, his father was diagnosed with a rare blood disorder. "His blood disorder benefits from the cancer research LLS funds," Zimmerman said. "Because of this, we joined the Leukemia & Lymphoma Society's Team in Training (TNT) endurance program shortly after his diagnosis and continue to be a participant in TNT in an effort to raise funds and awareness. Now it is my turn to help fight for those who cannot fight for themselves."
His activities include a garage sale and bake sale on Saturday, Feb. 10 from 8 a.m. to 2 p.m. at 14254 Aster Ave. in Wellington. Items to be sold include furniture, housewares, decorations, clothing, shoes, purses and more. Bake sale items include cookies, brownies, banana bread and more.
He is also planning an Orangetheory Fitness fundraiser on Saturday, Feb. 17 at 10:30 a.m. for a 60-minute workout. After class, Jamba Juice will provide smoothies, and raffle tickets to win some great prizes will be available. Class size is limited, so call (561) 753-8111 now to reserve your spot. There is a $20 minimum donation. Orangetheory Fitness is located at 11021 Southern Blvd., Suite 130, in Royal Palm Beach.
To contact Zimmerman directly, e-mail jakezimm2000@yahoo.com.
"My goal is to raise $15,000 for the Leukemia & Lymphoma Society," Romano said. "All of the money I raise goes to [fight] leukemia, lymphoma, Hodgkin's disease and melanoma. It will all help the cancer patients in the hospital and those who are not yet in remission and receiving treatment. I am doing this because my grandfather passed in 2012, and I feel like this is the best way I can connect and help those who are fighting."
Romano said that raising funds for LLS has made her realize that you can't take life for granted.
"It really makes me want to help others who are fighting with this disease and help people like my grandfather," she said. "I feel like this is my way of giving back to LLS after all that they did for my grandfather when he was in treatment. It makes me feel like I am helping in some way."
She noted that leadership skills are necessary in the undertaking.
"I had to create a whole team of my friends and family in order to create and carry out all of these events, and it has really given me a leadership role," Romano said.
Zimmerman urged the community to get involved in the campaign.
"I have set a goal to raise $20,000 to help cure blood cancers. Supporting the Leukemia & Lymphoma Society in this area is really important," he said. "My dad has a blood disease that he has had since I was very young, and he benefits from the cancer research. That is how I really have gotten connected with this cause."
He is proud of the work his team is doing.
"We have had a team meeting, and I am directing my campaign as a whole. Sending out letters and personally asking for donations have helped me be more outgoing, and it has taught me how to handle rejection, because some people say no," Zimmerman said. "I am grateful to LLS in Palm Beach because they have had multiple meetings with me on how best to raise money. Kellie Baker of LLS has been extraordinarily helpful. I also couldn't do this without the support and help of my team."
The candidate who raises the most money at the end of the seven weeks will be named "Student of the Year" and will receive a $5,000 college scholarship to the college of their choice. LLS will also reward the Student of the Year runner-up with a $1,000 college scholarship. The 2018 Students of the Year Grand Finale will be held Friday, March 9 at FPL's Manatee Lagoon.
Independent of the Student of the Year campaign, there will also be a Chick-Fil-A fundraiser for LLS on Tuesday, Feb. 27 from 6 a.m. to 10 p.m. at the Mall at Wellington Green and Royal Palm Beach locations. Mention "LLS Fundraiser" and 20 percent of your purchase will go to the Leukemia & Lymphoma Society.
For more information about the Student of the Year Campaign, contact Campaign Manager Kellie Baker at kellie.baker@lls.org or (561) 623-4575.