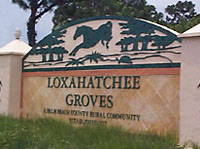 The Loxahatchee Groves Town Council selected a method of stormwater retention Tuesday that uses 10 feet of residents' easement as the primary method to get water off the roads and preserve their surfaces.
In a special workshop before the county meeting, Randy Wertepny of Keshavarz & Associates, the town's engineering consultant, presented three options for fixing drainage issues on the town's roadways.
Option 1, which was selected, will use 10 feet of residents' frontage as a swale to retain stormwater. Option 2, which would use a small catch basin and culvert to direct water to the canal, was passed over. Option 3, which was selected as a backup, would use a larger 10-foot by 20-foot catch basin and culvert.
All three options would be voluntary, and any resident who objects to having his property used would be passed over.
"We've looked at several alternative solutions for addressing some of the drainage concerns," Wertepny said. "We've also evaluated not just low spots on the roads, where there was clear and evident erosion. Part of what we wanted to do was try to utilize some of the existing ditches and culverts, so anywhere where we came across a culvert, we looked at it to try to see the condition, if it is causing an issue with the roadway today or can we utilize it for future drainage."
Using a locator map with GPS markers, he said they had located about 290 areas on the roads that are in need of improvement.
"Some of them are very minor; some of them are a little bit more major," Wertepny said. "These are based on erosion, washboarding, deterioration of the road, culverts in bad condition, canal banks sloughing, visible signs above and beyond ponding, because we didn't have ponding every day of the sessions."
Wertepny said they had sought the most typical and economical solution, using a swale, culvert or flume system to get standing water to the catch basins.
"It's something that you're not necessarily going to need surveying and a custom design to fix," he said. "What we're finding is that the majority are standard-type applications."
The locations identified will be prioritized from one to five, with five describing a problem that could affect the safety of residents.
Wertepny said all projects will be permitted through the South Florida Water Management District, explaining that the Loxahatchee Groves Water Control District has a standing SFWMD permit for drainage projects, and that any municipality can get a general permit that eliminates the need to get a permit for some individual projects.
"You're allowed to do quite a bit of things," he said, explaining that most of the B Road improvements were done without a permit. "Paving the road and putting the swales adjacent to the roadway did not require a permit."
He noted that he had met with SFWMD officials that day to clarify what the town can do without a permit.
Wertepny said the three options are based on whether the town has land it can use for water retention swales.
"One of the biggest constraints that we have is that the dirt roads and the OGEM roads really range between 16 and 20 feet, so that's really all the space we have to work with," he said, explaining that the minimum space that the Florida Department of Transportation allows is 18 feet.
He said the ideal situation is where an inlet is set outside the edge of the pavement.
"In this case, we would acquire a 10-foot drainage easement from the property owner, so if they commit to allowing us to have a 10-foot drainage easement, we could put the culvert outside of the roadway, which has a lot of benefits," Wertepny said. "It allows water to get off the roadway. That's the best thing you can do."
The catch basin would be located just above the bottom of the swale to allow sediment to settle.
"This is no different than what B Road is operating right now," he said. "You can barely even tell the difference in the catch basins sticking up once the sod is up and running."
Wertepny added that residents would have the opportunity to tie in their property for drainage onto the swale.
Mayor Dave Browning pointed out that by using swales, the town would not be taking people's property. "They will still have a deed to it," Browning said. "We're just going to enhance the drainage for the roads, and also they'll have the ability to drain into it."
Wertepny said that although residents still will own the property, FDOT standards require that fencing be at least 4 feet from the edge of the roadway to allow maintenance of the swale and to give a driver who loses control of his vehicle time to recover.
In the second option, an inlet would drain directly into the canal using a 4-foot manhole on the edge of the road, with a chamber underneath that catches some of the sediment before it gets to the canal. This idea received negative comments from SFWMD, and it also requires regular maintenance to remove accumulated sediment.
The third option would be a combination of the first and second options, to be used where the town is unable to get swale easements.
"We can get the catch basin off the road and sod an area," Wertepny said, using an internal weir to hold the water and allow sediment to settle. "It's not as good as having swales throughout, but it's definitely better than [option 2]."
During public comment, several residents spoke for and against the proposals. Those against the proposal said that the town would be taking people's property for public use and causing hardship by disrupting landscaping and moving fences in order to create swales. Those in favor said they would gladly give easements on their property to have decent roads.
During the regular meeting, Councilman Dave DeMarois made a motion to approve option 1 with option 3 as a backup where residents resisted giving a drainage easement, which carried 5-0.