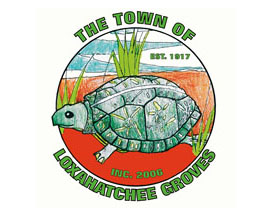 The Town of Loxahatchee Groves has announced a new road-grading policy that will include grading three times a month for all 16.4 miles of roads recently inherited from the Loxahatchee Groves Water Control District.
Those include all lettered roads, as well as North Road, Collecting Canal Road and Folsom Road for the balance of the fiscal year, based on funds recently earmarked by the Loxahatchee Groves Town Council.
The remaining 26 miles of town roads will be assessed based on information provided by the LGWCD, for the remainder of the year, based on available funding.
Town Manager Bill Underwood said the new policy is based on council action Jan. 16 specifying additional grading of 16 miles of badly deteriorated roads that the town took over recently from the district.
He added that town staff is working on a policy for the other 26 miles of town roads, based on information from the LGWCD.
"I'm going to get back to them for information only," he said, explaining that Councilman Todd McLendon had records going back five years of LGWCD grading. "Our task was to take those and determine… some of those roads get graded once a year, some roads get graded four times a year, some roads get graded twice a year, some roads get graded every month. We're going to compile that five years of data and come up with an average."
Underwood said town staff also has to come up with a grading plan.
"I'm hoping to have that prepared and in the agenda for the meeting Tuesday, Feb. 6," he said. "We're actually putting all that data together and getting the averages, and then figure out what it's going to be and what the cost is to accommodate what those averages are… There are some that over five years were only graded twice. We've got to go through all 85 segments."
Underwood said that some of the data requires careful consideration.
"I just happened to recall looking at one or two roads that only got graded twice in five years," he said. "Do they really get graded once a year or once in five years? Those are some of the things that we are studying, and then put together a report."
Underwood said that the grading will need to be coordinated with its new contractor, MJC Land Development of Royal Palm Beach, which recently replaced Bergeron Land Development as the town's road contractor.
"Where are they going to be when?" he explained.
Underwood stressed that the prevailing issue is still the cost, which is still in dispute by the council, which appropriated some money toward the additional grading at its last meeting.
Underwood added that he hopes to select a firm to assist with road assessments at its next meeting to make recommendations how to fund maintenance of the roads.
The selection will be from responses from two firms based in Tallahassee and Broward County, he said.