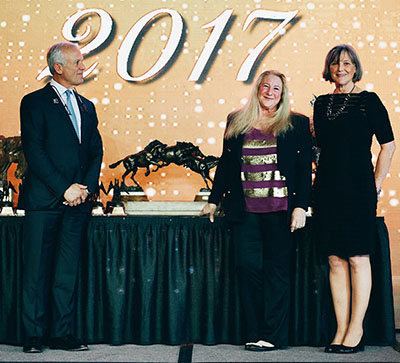 "It matters how you get in the door and deliver the message," explained Victoria McCullough, the EQUUS Foundation humanitarian award recipient who has spent the last 10 years advocating for state and federal legislation to ban the slaughter and transport to slaughter of American horses.
McCullough, a Wellington resident, received the award at the Pegasus Awards Dinner on Jan. 18 during the U.S. Equestrian annual meeting in Lexington, Ky.
A lifelong animal lover, an avid equestrian and patron of equestrian sports, McCullough is the chairman and owner of Chesapeake Petroleum, the country's largest privately held petroleum company. She assumed the position in 1989 following the unexpected death of her father, the company's founder. Having to prove herself in a male-dominated industry, McCullough learned to handle adversity with finesse and political savvy.
In 2007, McCullough became aware that more than 200,000 American horses were being slaughtered, and their meat was being shipped overseas for human consumption. Determined to stop this practice, McCullough gathered the facts to prove that horse slaughter is not simply inhumane, but that consumption of the meat is a serious threat to human health.
Since then, she has invested significant time and resources to protecting America's at-risk horses. Not only has McCullough rescued more than 11,000 horses and inspired many others to open their stall doors to horses in need, she has spent the last decade years advocating for state and federal legislation to ban the practice. McCullough has been more effective in her efforts than any other individual or organization in the U.S. working to ban horse slaughter.
Former Florida State Sen. Joe Abruzzo credits McCullough's work in the easy passage of the Horse Protection Bill in 2010, making it a felony to slaughter horses for personal or commercial use in Florida.
At the federal level, her meetings with former Vice President Joe Biden and other members of the executive branch led to language defunding horse slaughter in the United States in the 2014 Omnibus Bill which was signed into law by President Barack Obama. This law keeps horse slaughterhouses shut down on U.S. soil by defunding the inspections of the plants, making them illegal to operate.
McCullough has been instrumental in ensuring that the language is included in the budget each year and in creating the Udall Amendment to protect wild horses from slaughter. "The Udall-Murkowski team in the Senate have been our greatest allies in protecting America's horses," McCullough said.
With her trademark soft voice, yet strategically powerful approach, McCullough has worked tirelessly, passionately, intelligently and expertly to save America's horses. "She's extremely effective because she has the experience, respect and resources to get things done in Washington, as well as work across party lines," Abruzzo said.