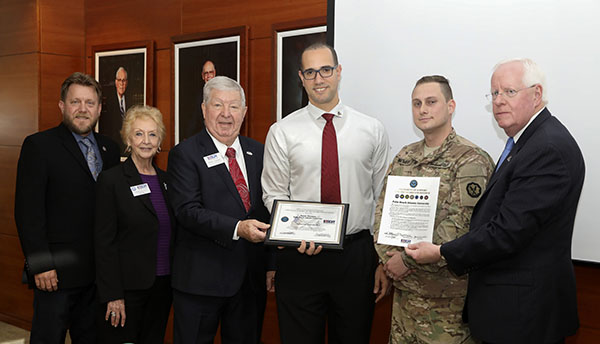 The Florida Employer Support of the Guard and Reserve (ESGR) has awarded Jason Thomas, director of campus information systems at Palm Beach Atlantic University, the Patriot Award for his support of an employee in his department.
Thomas was nominated by Brandon Waymire, a financial aid technology specialist, who is set to serve a one-year deployment in Saudi Arabia for the U.S. Army. Waymire, who lives in Loxahatchee, has served in the U.S. Army Reserve for about 12 years.
An employee serving in the National Guard or Reserve may nominate individual supervisors on the basis of the support provided directly to the nominating service member and their family.
Waymire nominated Thomas, writing that, "J.T. constantly goes above and beyond his role as a supervisor to help him achieve his highest level of performance in his profession and in his military service."
"Brandon is a well-respected and valued member of the campus information services team. We are praying for him as he embarks on his new mission overseas," said Thomas, a Royal Palm Beach resident. "Brandon is well positioned to employ his unique talents in service to our country."
On hand for the award presentation on campus Feb. 12 was Florida Employer Support of the Guard and Reserve (ESGR) Director of Employer Outreach Peter Caspari, Area 14 ESGR Chair Rebecca Heinl and ESGR area volunteer Buck McTee.
After the presentation, PBAU President William M.B. Fleming Jr. signed the statement of support on behalf of the university pledging school's ongoing recognition for the unique needs of employees who serve in the National Guard or Reserve.
PBAU is a private, independent university offering undergraduate, graduate and professional degrees. The university is dedicated to the integration of Christian principles to prepare students for learning, leadership and service.