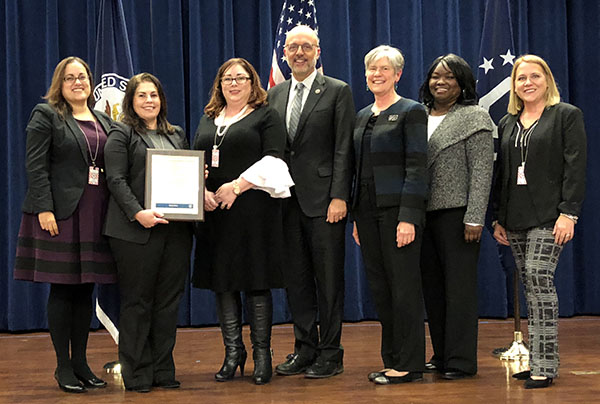 The Palm Beach County Clerk & Comptroller's passport facilities in Palm Beach Gardens, Delray Beach and Belle Glade were recently recognized by the U.S. Department of State with the 2017 Most Innovative Award.
"They have a truly customer-service approach in conducting outreach and educating customers about the passport application process through the use of workshops and social media," Deputy Assistant Secretary Brenda Sprague said. "The approach ensures that customers have a positive and worthwhile experience."
To facilitate customers' needs, the clerk's office has held special passport fairs when the facilities would normally be closed and also held a public workshop that covered complicated passport issues. The workshop is also available online.
"Customer service is a priority for our office, and we're very honored to have been recognized for our efforts," Palm Beach County Clerk & Comptroller Sharon R. Bock said. "We are always looking for ways to provide access and make processes as seamless and positive as possible for all of our customers."
In 2017, the Palm Beach County facilities processed 27,596 passports with more than 500 passport applications accepted in just one day at a passport fair held in March. Passport applications are now available Monday through Friday, 8 a.m. to 4 p.m., at the three Palm Beach County facilities.
For more info., visit www.mypalmbeachclerk.com or call (561) 355-2996.