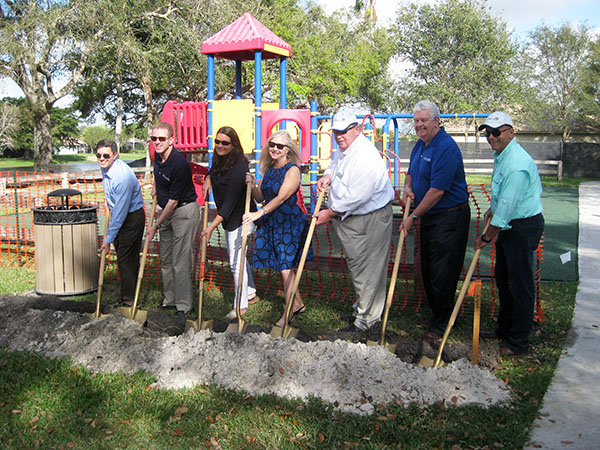 By Dani Salgueiro
The Village of Wellington celebrated breaking ground on Dorchester Park's renovation project on Wednesday, Feb. 21. The park has been temporarily closed since Feb. 2, when construction on a new observation platform, improved lighting and additional pathways began.
Mayor Anne Gerwig led the ceremony's project overview, first by thanking and introducing all of those involved in the planning and funding process of the park's renovation project, including Wellington's engineers, budget planners and managers.
The park's renovation is being matched by a Land and Water Conservation Fund Grant, which Gerwig and Director of Administrative & Financial Services Tanya Quickel explained is a great accomplishment for Wellington, since those grants are difficult to get.
Gerwig moved on to describe the details in the project plans and what Wellington hopes families in the community will gain from the improved park space.
After its renewal, the park is planned to have a new platform bordering and extending out into the lake from new built-in pathways. The goal of the renovation is to enhance the park's environment by creating a broader space for families to overlook the lake, go fishing or walk their dogs.
Further renovations, such as increased and improved lighting, will make the park, and the new platform and walking space, more accessible and enjoyable to people of the community during evening hours.
"Our neighborhood parks are something that really make us different in Wellington," Gerwig said. "With the observation platform, you will be able to walk out over the water."
Though it is located in a neighborhood area, Dorchester Park is open to the public and, with its unique lake view, is geared to become another landmark in Wellington. The park's improvements seek to facilitate people's access to Wellington's nature and to encourage families to spend time outdoors enjoying the scenery.
Gerwig urged people of surrounding neighborhoods to remain patient, as she knows the park's closure is difficult for residents who frequented the park before its renovation began.
Gerwig explained the value of Wellington's parks, expressing that it takes a good park to make a great neighborhood.
Village officials are optimistic that Dorchester Park will be transformed into another great Wellington park that many families will enjoy.
"I'm really looking forward to how much fun is going to be had [in this park] in the future," Gerwig said.
After the project's overview, Gerwig, Vice Mayor John McGovern, Councilman Michael Napoleone, Councilwoman Tanya Siskind, Village Manager Paul Schofield, Assistant Village Manager Jim Barnes and Parks & Recreation Director Bruce DeLaney all picked up shovels and initiated the park's groundbreaking.
Dorchester Park is tentatively scheduled to reopen for public use on April 16. It is located at 1679 Dorchester Place. The park is also home to a playground, gazebo, benches and picnic tables. For more information, visit www.wellingtonfl.gov.