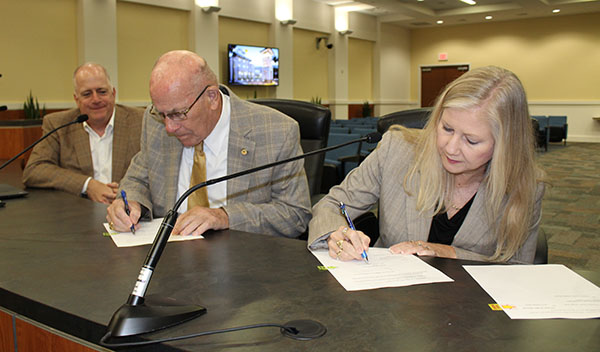 Wellington Mayor Anne Gerwig and Tom Wenham of the Wellington Community Foundation signed a memorandum of understanding at the Wellington Village Council meeting on Tuesday, Feb. 13.
"It formalizes the partnership between us to support the needs of our community, specifically with seniors, veterans and our youth," Community Services Director Paulette Edwards explained. "It gives us the opportunity to partner with this nonprofit organization, to be able to assess the needs of the community, and those needs then will be able to be addressed and help the village in addressing those needs in the community."
Wenham, chair of the foundation and a former Wellington mayor, appeared at the meeting to thank the village for its continued partnership.
"On behalf of the board members of the Wellington Community Foundation… we are proud to be partners with the village on this memorandum of understanding with a focus on Wellington seniors, veterans and children, supporting their quality of life by working together on community projects," Wenham said.
Aside from Wenham, the foundation's board members include Mickey Smith, Robbin Lee, Maria Becker, Barry Manning, Jim Sackett, Maggie Zeller, Hope Barron, Joanna Boynton and Dr. Gordon Johnson.
"It was two years ago this month that the council turned the Wellington Community Foundation over to those committed to benefiting the residents of Wellington," Wenham said. "During these past two years, your Wellington Community Foundation board has worked very hard on procuring funds to achieve the many activities and products that have made Wellington the hometown community we all love and support."
Wenham told council members that the foundation is ready to move forward with the joint initiatives he described.
"Let's jointly sign this memorandum of understanding and start working together for the betterment of Wellington," Wenham said.
Gerwig thanked Wenham and the foundation for the community involvement they have engaged among different people in Wellington through the work it has done.
"I would like to thank you for what you have done with this community foundation and to bring a focus to our seniors staying in our community, and our veterans who have served, and the people who might fall between other cracks," Gerwig said. "You're going to be filling that role."
Councilman Michael Napoleone applauded the foundation and its efforts in Wellington.
"You guys have just hit the ground running and haven't stopped running," he said. "You have a great board, and you're all individually assets to the community, but collectively you've been amazing."
Councilman Michael Drahos also commended the foundation.
"I love this charity. I love talking them up every chance I get," Drahos said. "You guys are all-stars, and you are living up to the hype, so every time you accomplish something more and greater, you just set the bar higher for yourself."
He went on to say that the village and the foundation continue to share a great partnership for the Wellington community.
Vice Mayor John McGovern, alongside Gerwig, who was then a councilwoman, both were part of the vote in favor of separating the foundation from the village as an independent entity unto itself.
"That really is one of the proudest votes that I have cast, being here to celebrate all that the Wellington Community Foundation has become, but really to talk about this memorandum of understanding, which moves that one step forward," McGovern said. "There's so many things that we can do in community services through the village that require matching funds, or matching funds to make it go further and change lives for more people."
Councilwoman Tanya Siskind spoke about the experience of attending foundation events.
"You're so dedicated to our community," Siskind said. "Children, veterans and seniors — there is not a more noble cause. People are relying on this partnership, and I know there's going to be great things coming out of it."
Wenham stressed the teamwork that goes into the success of the foundation.
"It does take great people working with us who want this to succeed," Wenham said. "I think we've worked hard. We stand together. We meet monthly… Paulette has joined us for a few of the meetings, so you're welcomed."
McGovern made a motion to approve the memorandum, seconded by Drahos. The motion was approved unanimously.
Gerwig and Wenham signed the memorandum for a continued partnership between the village and the foundation, as did Village Attorney Laurie Cohen and Village Clerk Chevelle Nubin.
In other business:
• The council approved Palm Beach Central High School's and Wellington High School's Project Graduation sponsorships by the village.
• Council members approved authorization to negotiate a contract to provide engineering and architectural services for Greenbriar Park and South Shore Park. Kimley-Horn & Associates is the firm that the village will enter negotiations with for the two projects.