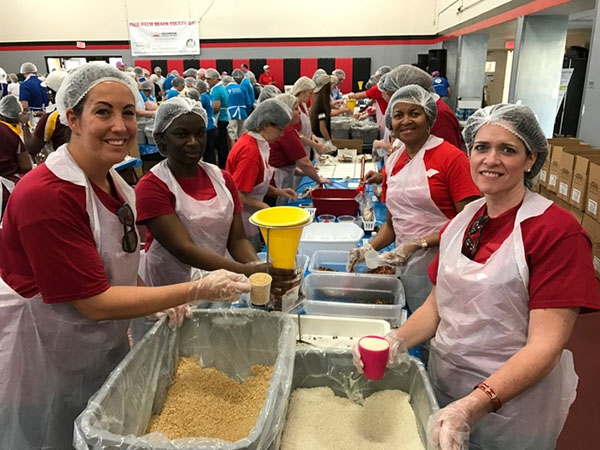 Volunteers are needed to help package 125,000 nutritious meals at Feed Palm Beach County Day on Saturday, March 17 at Gaines Park West Palm Beach.
At the event, organized by the West Palm Beach Rotary Club Charity Fund and the Palm Beach County Food Bank, volunteers will work in two shifts from 8:30 to 11 a.m. and from 11:30 a.m. to 2 p.m. They will measure, weigh, package and pack 125,000 meals of rice and beans. All of the food will be donated to the Palm Beach County Food Bank and local food pantries for distribution to the hungry in Palm Beach County.
This is the fifth year for the event, held at Gaines Park, located at 1501 N. Australian Ave. in West Palm Beach.
"The difference in our food packaging program is that the food stays right here in Palm Beach County to feed the hungry in our community," Feed Palm Beach County organizer Tony Lofaso said. "We are looking for individuals, families, companies and civic organizations to volunteer. It's a great way to do your part to help alleviate hunger right here at home."
Palm Beach County Food Bank Executive Director Karen Erren said that the program is important in helping the food bank meet the needs of the hungry.
She points to the following statistics regarding the need for local hunger relief:
• 200,000 Palm Beach County residents do not know where their next meal will come from.
• 62 percent of public school children in Palm Beach County qualify for free or reduced-price lunch programs.
• More than 225,000 Palm Beach County residents depend on federal food assistance for daily sustenance.
To volunteer for this community effort, visit www.wpbrotary.com and select "Feed Palm Beach County" under the "Projects" header.
Major sponsors of Feed Palm Beach County Day include Tire Kingdom, the Quantum Foundation, Janet and Robert Nakushian, Derrick Hoskins of K&M Electric and Jack Lansing of UBS Bank, IBM Southeast Credit Union.
Established in 2012, the Palm Beach County Food Bank rescues, collects and distributes food at no cost to more than 175 agencies that take on the daily responsibility of feeding the hungry in the local community.
Operating from a centralized location in Lantana, the Palm Beach County Food Bank annually provides more than 5 million pounds of food that is distributed to more than 100,000 individuals each month from Tequesta to Boca Raton and west to Belle Glade and Pahokee.
The food bank also provides healthy food to children each weekend throughout the year. Its Marjorie S. Fisher Nutrition Driven program provides nutrition education, food safety, food preparation and consumer shopping tips and fresh food products to at-risk families. In addition, the food bank assists families to lift themselves out of poverty by accessing Supplemental Nutrition Assistance Program (SNAP) benefits.
The Palm Beach County Food Bank is locally led and governed and is solely focused on the needs of Palm Beach County residents. For more info., call (561) 670-2518 or visit www.pbcfoodbank.org.