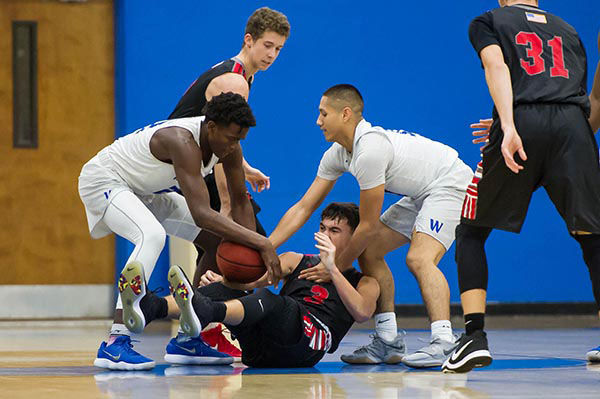 The Wellington High School boys basketball team continued to make school history, extending an unblemished record to 21-0 on Friday, Jan. 26 after hosting Seminole Ridge High School and besting the Hawks 65-34.
Seminole Ridge (3-15) fell behind early, and the Hawks never proved able to recover against a quicker and more accurate Wellington squad that put up seven three-point baskets on the night.
Seconds after the tip-off, Wellington guard Texan Moulton took a pass and went up for the dunk to lift the Wolverines up 2-0, a lead that the team never relinquished. Wellington was able to mount a 23-0 lead just before the end of the first period, but then the Hawks capitalized at the free-throw line to close the margin.
The Wolverines continued a rotation of players through the second period. Seminole Ridge did better in the second period under the boards, cutting the gap to 45-20 at the end of the first half.
The Wolverines' defensive unit was relentless against a struggling Hawk offense, surrendering only three points in the third period. The Hawks began to feel the frustration from their turnovers, as Wellington continued to capitalize.
"I'm glad our guys came out focused and ready to play," Wellington coach Matt Colin said. "The last time against them, we didn't play a high-energy game."
The Hawks outscored Wellington 11-3 in the final period, but the Wolverines had established such a commanding lead that it made little impact, as Wellington was able to secure the 65-34 win.
The victory propelled the Wolverines to 21-0 and put them currently in the driver's seat of the district.
"Like I tell the players, they've got to find it inside them," Colin said. "You don't play this game forever, you know, so you have to find a way to get yourself up every game, no matter who it is."
For Wellington, Linton Brown had 14 points and two three-point baskets. Moulton had 12 points, while Bryan Williams and Nicolas Toledo tallied eight points. Danny Valentin put up three three-point baskets.
For the Hawks, Kyle Connor had 12 points and also three three-point baskets.
"We saw some things from guys like Sean Smith, who had a high energy level. We've been challenging him all year, and he did it tonight," Colin said. "Trey Perry, who's a freshman, he's doing a lot of little things we need. He has got a good grip on things."