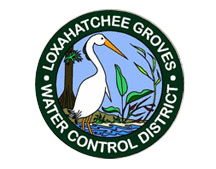 A local bill to make the Loxahatchee Groves Water Control District dependent to the Town of Loxahatchee Groves has passed both houses of the Florida Legislature and awaits Governor Rick Scott's signature.
Once enacted, the LGWCD will need to hold a referendum for final approval.
"When it comes out of there, we have to write up a referendum vote, which will likely occur sometime this summer," LGWCD Chair Anita Kane told the Town-Crier on Tuesday. "It has to occur sometime before Oct. 1."
If the referendum passes, which will be based on a proxy vote by acreage owned rather than a popular election, the Loxahatchee Groves Town Council will replace the five sitting LGWCD board members. The fate of district staff is uncertain.
The district's primary responsibility is now drainage and canal maintenance, since the district recently turned over all roads to the town, which has a contractual form of government with no permanent staff, like the district.
"The recommendation for staff is something that I would hope they would ask us, but it's not a requirement," Kane said.
Writing the referendum question is the next step once Gov. Scott signs H.B. 1093.
Kane said the district will probably get information from Wellington as to the process.
Wellington incorporated through a popular vote referendum in 1995. The newly elected Wellington Village Council took over as supervisors of the Acme Improvement District in 1996.
In that case, however, there was no existing council, and four of the five members elected to the inaugural Wellington Village Council were sitting Acme supervisors.
Kane said it is likely that the governor will sign the bill, a few letters of objection from local residents notwithstanding.
"Everything I've heard, there's no chance of it not going through the governor's office, especially when there is no money involved," she said.
Kane said supporters of the bill need to start talking actively to potential voters and get the facts out about the district becoming dependent, and pointed out that a few letters written to the state in opposition were inaccurate in their reference to the district and town losing its water rights.
"I am in possession of those letters sent to Tallahassee in opposition, and all of those letters are not factual," she said. "There's no effect on the amount of water we're allowed to drain from South Florida Water Management District, whether we're dependent or independent."
Although Kane supports the district becoming dependent, she feels that the town should accept the transition with a minimum of district staff turnover.
"Although I think Underwood Management is doing a fine job under the circumstances, I don't think they can handle running the water control district as well," she said. "I think we need [LGWCD District Administrator] Steve Yohe or someone of his ilk to run the water district, because Bill [Underwood] can't do all of that. That's my two cents for anyone who asks me."
If the referendum is successful, all money and property of the district will go to the town, but the town is still saddled with the responsibility of maintaining roads turned over to the town, which are in bad condition, and the town lacks funding to bring them up to grade.
Kane said the district has faced criticism due to the bad condition of the roads, but pointed out that the lack of maintenance goes back longer than the present board.
"I've talked to council members. They said, 'We got those roads dumped on us in terrible condition.' There's no question, the water control district for years did a horrible job maintaining them, but you guys knew for almost a year that you were going to get those roads," she said. "You asked for them, and you knew we were moving in that direction. We had workshops to make it happen. Why wasn't something put in place?"
She hopes the town does a better job planning for a takeover of the LGWCD responsibilities.
"I do understand that they're starting to have that conversation, so I'm happy to hear that," Kane said.
The proxy vote by acreage that will be used for the dependency referendum will be the same process used to elect four of the five sitting LGWCD supervisors, she said.
Kane said proxy voter turnout has increased in recent years due to recently elected supervisors being more active in garnering votes.
In July 2016, Kane and Supervisor Simon Fernandez won elections by wide margins, defeating 18-year Supervisor Dave DeMarois, now a councilman. Kane won the first round of voting 1,884 to 976 over DeMarois. Fernandez won the second round over DeMarois 1,919 to 941. Kane said prior proxy elections had about 500 proxy votes, with a possible total of about 8,000 proxy votes.
"The point I'm making is getting more people involved is what's making a change," she said.